Fish Finders in the $1000 budget range offer a blend of advanced features and robust performance. You can expect larger screens, high-quality sonar, advanced imaging, detailed mapping, networking capabilities, and much more.
We have handpicked the top performers in this price range that offer these advanced features. Plus, we have a detailed guide on how to choose the fish finder in the $1000 budget and which features should you prioritize for saltwater fishing and freshwater fishing.
Here is a quick look at the best fish finders under $1000:
Garmin Echomap UHD2 7
Humminbird Helix 7 CHIRP Mega SI GPS G4N
Lowrance Elite FS 9
Raymarine Element 9 HV
Garmin Striker Vivid 9SV
Best Fish Finders under $1000 – Review
1. Garmin Echomap UHD2 73SV Chartplotter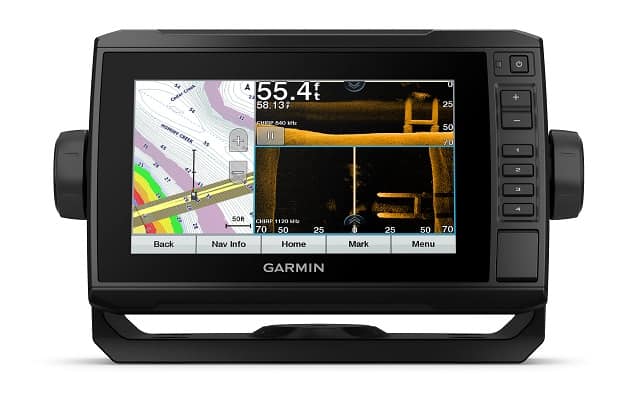 Garmin's Echomap UHD2 73SV, priced in the $1000 range, offers a suite of features that position it as a premium fish finder. It comes with GT54UHD-TM transducer and Garmin Navionics+ U.S. Inland Mapping. Here are its top features:
Bright 7-inch Touchscreen Display with Keyed-Assist: A 7-inch screen is a generous size, providing ample viewing area. The combination of touchscreen and keyed-assist makes for a user-friendly interface, allowing for intuitive navigation and easier access to functions.
High Wide CHIRP Traditional Sonar: High wide CHIRP sonar is known for excellent target separation and definition. This ensures that fish are distinctly visible, reducing clutter and enhancing the clarity of the underwater environment.
800 kHz ClearVü Sonar: ClearVü sonar at 800 kHz offers near-photographic images of the structures and fish below the boat. This frequency provides a detailed view up to 200 feet, which is impressive for identifying fish habitats and underwater structures.
Two SideVü Sonar Frequency Settings (455/1200 kHz): The inclusion of two frequency settings for SideVü enhances versatility. The 455 kHz offers a broader view, while 1200 kHz provides detailed side-scanning images. An extended range of up to 500 feet is substantial, especially for mapping larger areas and identifying structures or fish schools to the sides of the boat.
Support for LiveScope: LiveScope is one of Garmin's premium features, offering real-time scanning sonar. This allows anglers to see fish movements and reactions in real-time, which can be a game-changer for tracking fish behavior and adjusting tactics accordingly.
High-Contrast Vivid Scanning Sonar Color Palettes: Enhanced color palettes improve the visibility and differentiation of targets and structures. This ensures that fish and underwater objects are easily distinguishable, enhancing the fishing experience.
Multi-Band GPS: Multi-band GPS improves position accuracy, especially in challenging environments where signals might be weak or reflected. For anglers, this means better waypoint accuracy, improved route tracking, and enhanced navigation safety.
Preloaded Navionics+ Charts: Premium inland charts with detailed bathymetry, contours, points of interest, and more.
2. Humminbird Helix 7 CHIRP Mega SI GPS G4N
Humminbird's Helix 7 CHIRP Mega SI GPS G4N offers a rich set of features that position it as a strong contender in the $1000 range. Its focus on detailed imaging, versatility in sonar capabilities, extensive mapping options, and networking capabilities make it a well-rounded choice for both casual and dedicated anglers. Given the features listed, it provides excellent value for its price point in the fish finder market. Here is a look at its top features:
7-inch Ultra-Wide Display: A 7-inch display is sizable and provides ample room for viewing. The ability to access pre-loaded split-screen view options allows anglers to monitor multiple data streams simultaneously, enhancing multitasking capabilities.
MEGA Side Imaging: Offering crystal-clear views up to 125 feet on either side of the boat with three times the detail of standard Side Imaging is impressive. This feature ensures comprehensive coverage and detailed imaging, aiding in spotting fish schools and structures efficiently.
MEGA Down Imaging: The promise of unprecedented clarity down to 125 feet with thrice the detail of standard Down Imaging means that anglers can expect near-photographic views of the underwater environment directly beneath the boat.
Dual Spectrum CHIRP Sonar: This is a versatile feature. The Wide Mode provides broad coverage, while the Narrow Mode focuses on intricate details. The proprietary Low-Q CHIRP transducer ensures detailed fish arches and a clear view of structures, making it easier to identify potential fishing hotspots.
Internal GPS and Humminbird Basemap: The enhanced basemap, covering over 10,000 lakes and coastal areas of the continental U.S., ensures that anglers have a detailed view of the underwater terrain. This aids in navigation and helps identify key points of interest, enhancing safety and fishing productivity.
Premium Chart Compatible: The compatibility with premium charts like LakeMaster, CoastMaster, and Navionics provides anglers with a comprehensive mapping solution. This is especially valuable for those who fish in diverse waters and need detailed, high-quality charts.
Ethernet Networking: This is a standout feature in this price range. High-speed Ethernet networking allows for the integration of multiple devices, creating a cohesive, interconnected fishing system. The ability to connect with technologies like Minn Kota i-Pilot Link and Humminbird CHIRP Radar means that the fish finder can be part of a broader, advanced fishing setup.
3. Lowrance Elite FS 9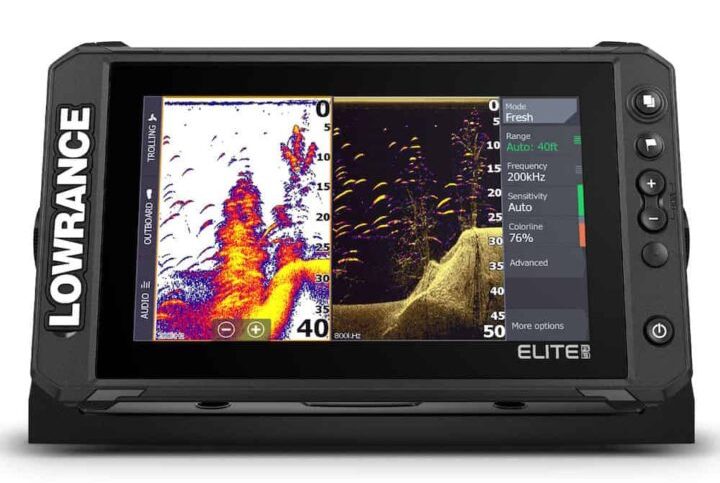 The Lowrance's Elite FS 9 is another strong contender in the $1000 range for fish finders. To evaluate its capabilities, let's delve into its key features and assess them in the context of its price range:
9-inch Display: The 9-inch screen size provides a substantial viewing area. Such a large screen is beneficial for split-screen views, allowing anglers to monitor multiple data streams without feeling cramped.
Full High-Definition Touchscreen: A full HD touchscreen offers sharp, clear images. The touchscreen functionality ensures a user-friendly and intuitive interface, making navigation and function selection seamless.
ActiveTarget Live Sonar Compatibility: If paired with the ActiveTarget Live Sonar, the Elite FS 9 allows anglers to track fish movements in real time. This level of live detail can be a game-changer in certain fishing scenarios, especially when targeting moving fish schools.
CHIRP Sonar: This feature offers better target separation and clarity compared to traditional sonar. CHIRP sonar emits a range of frequencies, providing a more detailed and clearer image of fish and structures.
DownScan Imaging and SideScan: These features provide nearly photographic images of the underwater environment. DownScan offers a view directly beneath the boat, while SideScan scans the waters horizontally, providing a view of the area to the side of the boat.
C-MAP Contour+ Maps: These maps provide detailed coverage, offering 1-foot contours of over 8,900 U.S. lakes. Such detailed mapping aids in navigation and helps identify potential fishing hotspots.
Networking Capabilities: The Elite FS 9 supports NMEA 2000 and wireless networking. This allows for the integration of multiple devices, creating a cohesive fishing and navigation system on the boat.
Genesis Live Real-Time Mapping: This feature allows anglers to create custom, high-definition fishing maps in real-time. It's particularly useful for waters not covered in standard maps or for getting more detailed, up-to-date information on frequently fished areas.
4. Raymarine Element 9 HV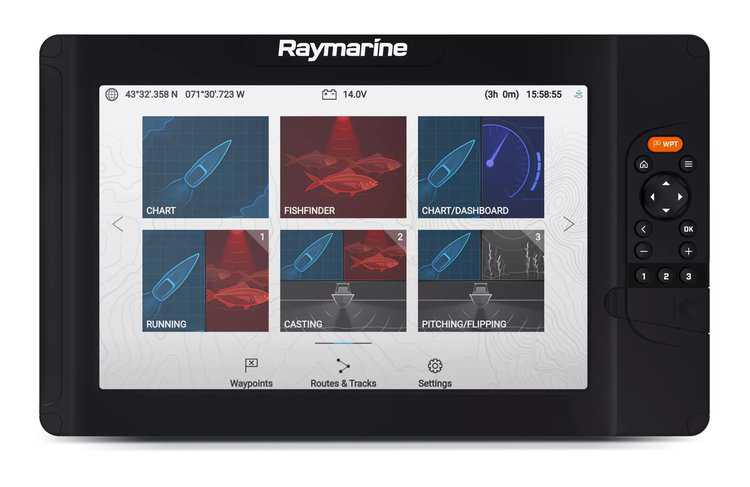 The Raymarine's Element 9 HV is part of Raymarine's Element series, which is designed to provide a high-performance experience for anglers with intuitive and easy-to-use features. Let's evaluate the Raymarine Element 9 HV based on its primary features and functionalities:
HyperVision 1.2MHz Sonar: The Raymarine Element 9 HV uses HyperVision technology, which provides high-resolution imaging at 1.2MHz. This sonar frequency offers incredible detail, allowing anglers to discern underwater structures, vegetation, and fish with great clarity.
Quad-Core Processor: With its onboard quad-core processor, the Element 9 HV provides rapid and smooth chart redraws. This ensures that the device functions efficiently, allowing anglers to seamlessly navigate menus and access features without lag.
9-inch Display: The 9-inch screen is sizable and offers good visibility. The screen is sunlight-readable, ensuring clarity in various lighting conditions. It's not a touchscreen, but the keypad interface is designed to be intuitive, with large buttons suitable for use even in rough conditions.
Built-in GPS and Mapping: The Element 9 HV comes with an integrated GPS system and a basic mapping package. It's compatible with LightHouse NC2 charts, which provide detailed and accurate mapping for a variety of regions.
RealBathy Personal Sonar Mapping: This feature allows anglers to create their own high-definition bathymetric maps. It's particularly useful for charting unexplored or lesser-known waters.
Rugged and Durable Design: The Element series is built to withstand harsh marine conditions. Its rugged design ensures durability and long-lasting performance.
Easy-to-Use Interface: Raymarine designed the Element series with simplicity in mind. The intuitive button layout and user-friendly interface make it easy for both novices and experienced users.
Wi-Fi and NMEA 2000 Connectivity: The inclusion of Wi-Fi allows for wireless updates, while NMEA 2000 connectivity ensures the device can be integrated into a broader marine electronics network.
5. Garmin Striker Vivid 9SV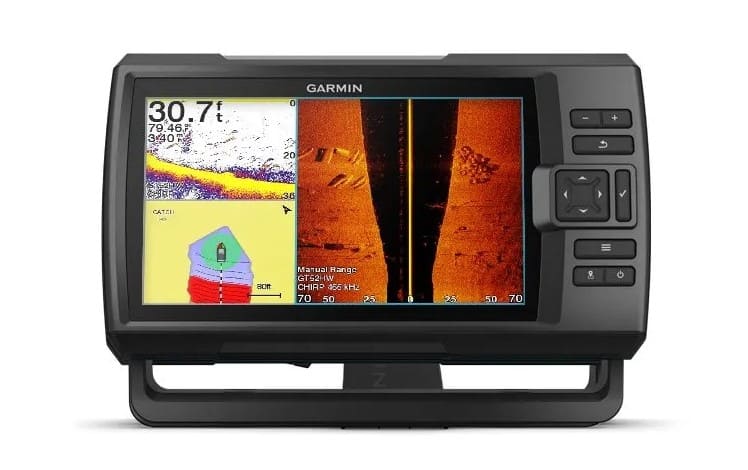 In the $700 range, the Garmin's STRIKER Vivid 9SV offers excellent value for money. Its combination of high-definition sonar, a sizable screen, custom mapping capabilities, and enhanced color palettes make it a compelling choice for both recreational and serious anglers. While it may not have the extensive navigation and networking capabilities of higher-end models, it focuses on providing core functionalities that are most relevant to fishing. Here is our review of its top features:
9-inch Display: The 9-inch screen provides ample viewing of real estate, which is beneficial for split-screen views and detailed sonar imaging. The display is also sunlight-readable, ensuring clarity in various lighting conditions.
High-Definition ClearVü and SideVü Sonar: These sonar types offer near-photographic images of what's beneath and beside the boat, allowing for detailed views of structures, vegetation, and fish. This is particularly valuable for anglers looking to understand the underwater environment in detail.
Built-in GPS: While the STRIKER series isn't as navigation-focused as some other Garmin lines, the inclusion of GPS allows anglers to mark waypoints, track speed, and navigate routes, which is essential for marking fishing spots and routes.
Quickdraw Contours: This feature enables users to create and store custom fishing maps with 1-foot contours. It's particularly useful for fishing in uncharted or lesser-known waters, as it allows the angler to build a personalized map over time.
Wi-Fi Connectivity: With Wi-Fi, users can pair the device with the ActiveCaptain app for access to OneChart, smart notifications, software updates, and more.
Rugged Design: Built for the marine environment, the STRIKER Vivid 9sv is durable and designed to withstand typical wear and tear on the water.
How to Choose Best Fish Finder under $1000
When shopping for a fish finder in the $1000 range, the features are expected to be of high quality. The priority given to each feature should align with your fishing style, frequented environments, and personal preferences.
If exploration and navigation are as vital to you as fishing itself, GPS and maps become indispensable. If understanding the underwater environment in detail is crucial, then Side and Down Imaging should be emphasized.
For those who value a modern, interactive experience, touchscreen and a larger screen size are crucial. For tech-savvy anglers or those with multiple devices, networking becomes a top priority.
We will explore some critical features in the fish finder, to help you decide which one should you prioritize.
Side Imaging
In the $1000 price range, you can expect high-resolution side imaging, often with frequencies ranging from 455 kHz to 1200 kHz. The range might extend up to 100-200 feet on either side of the boat, providing a wide coverage area.
Side Imaging offers a panoramic view of the underwater environment to the sides of the boat. It helps in locating fish schools, underwater structures, and potential hazards.
If you often fish in waters with a lot of structures or want a broad view of the underwater landscape, a high-frequency side imaging fish finder should be a priority.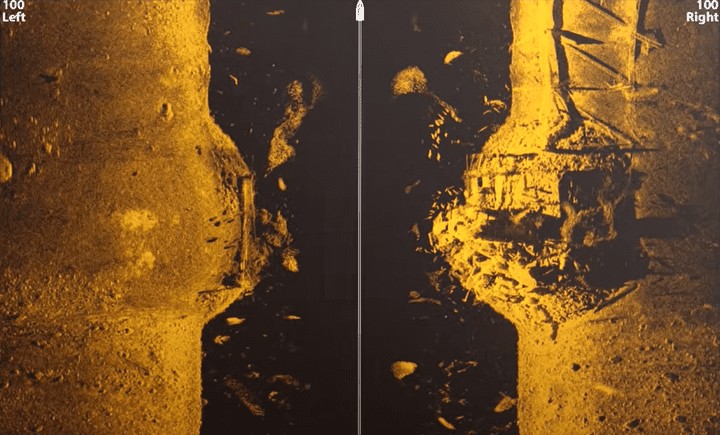 Down Imaging
Down Imaging in this price range will offer near-photographic quality images, typically in the 455/800/1200 kHz range, providing detailed views directly beneath the boat.
Down Imaging is essential when fishing in areas with complex underwater structures, such as submerged trees, rocks, or wrecks. It's also useful in areas with varying bottom contours.
If you fish in diverse environments with a lot of underwater structures or varying terrains, high-quality down imaging should be prioritized.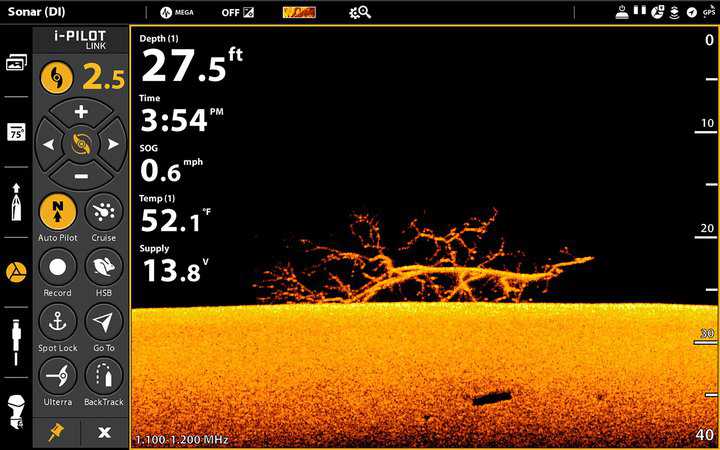 GPS and Maps
You'll get high-precision GPS modules at this price point. The fish finder will come with preloaded maps, often covering a vast number of lakes, coastal areas, and other water bodies. There should also be options to upgrade or add custom maps.
A good fish finder GPS combo is vital for those who explore new fishing areas, travel long distances on water, or fish in large lakes or coastal areas where navigation and locating fishing spots become crucial.
If you're an angler who often ventures into new waters, or if you rely heavily on marking and returning to specific spots, a robust GPS and mapping system should be top priorities.
Screen Size
In the $1000 price range, you can expect a screen size ranging from 7 to 9 inches, providing ample display area for viewing sonar data, maps, and other functionalities.
A larger screen offers better visibility, making it easier to interpret sonar returns and navigate maps. It allows for split-screen functionalities, enabling you to view multiple data streams (e.g., side imaging, down imaging, and GPS maps) simultaneously.
If you value clarity, multitasking, or fishing in complex environments where you need multiple views, a larger screen should be a top consideration.
Touchscreen
Many fish finders in this price range will offer touchscreen functionality, sometimes combined with physical buttons or keyed-assist for added versatility.
Touchscreen provides a more intuitive user experience, making it easier to navigate menus and adjust settings. It allows for quick zooming, panning, and waypoint marking on maps.
If you value a modern, smartphone-like interface and want quick access to functions, a touchscreen should be prioritized. However, consider how it performs in wet conditions or with gloved hands.
Networking
In the $1000 range, many fish finders will offer networking capabilities, such as Ethernet or NMEA 2000 connectivity. This allows for integration with other marine electronics, sharing of data between devices, and potential add-on modules or upgrades.
Networking provides the potential for system expansion, like adding live-scanning sonars or other modules.
If you have multiple marine devices or plan on expanding your setup, networking capabilities become crucial. If you're a solo angler with a simple setup, this might be of lesser priority.
What type of $1000 fish finder is suitable for:
Freshwater Fishing
Ideal Features:
High-Resolution Sonar: Given that freshwater bodies like lakes and rivers often have a lot of structures (like submerged trees, rocks, or vegetation), high-resolution sonar (like CHIRP, Down Imaging, and possibly Side Imaging) can provide detailed views of these structures.
Mapping & GPS: Detailed maps of lakes and rivers, with contour lines and depth markings, can be crucial. The ability to create custom maps (like Quickdraw Contours) is beneficial for uncharted or lesser-known waters.
Screen Size: A medium to large screen (7-9 inches) is suitable, allowing for split-screen views of sonar and maps.
Look for a fish finder that emphasizes high-resolution imaging and detailed freshwater mapping. Brands like Garmin, Humminbird, and Lowrance have models in this price range specifically tailored for freshwater environments.
Saltwater Fishing
Ideal Features:
Powerful Sonar: Saltwater environments can be much deeper, especially if you're fishing offshore. A fish finder with powerful CHIRP sonar, capable of emitting lower frequencies, will be essential for deeper depth penetration.
Wide Area Mapping & GPS: Preloaded marine charts that cover coastal areas and potentially offshore zones are crucial. Look for models that also allow for updates or additions to their chart databases.
Networking Capabilities: If you're on a larger vessel, the ability to network with other devices (like radar or autopilots) can be beneficial.
Durability: Ensure the fish finder is built to withstand the corrosive nature of saltwater.
Screen Size: A larger screen (8-10 inches) can be advantageous, especially if navigating complex coastal zones or tracking multiple data streams.
Opt for a saltwater fish finder that is robust, offers powerful sonar capabilities, and comes with comprehensive marine charts. Brands like Garmin, Raymarine, and Humminbird have offerings in this range designed for saltwater and coastal fishing.