Garmin offers a wide range of fish finders that cater to various budgets and fishing needs. Whether you are a casual angler looking for basic sonar and GPS or a professional deep-sea fisherman requiring advanced chart plotting and sonar capabilities, Garmin has a fish finder that meets your needs.
Garmin's fish finders are categorized into three series: Striker, Echomap UHD, and GPSMAP, catering to different user needs and budgets.
The Striker series serves as an entry-level option with basic navigation and sonar features.
The Echomap UHD series, a mid-tier range, is subdivided into UHD, UHD2, and UHD Ultra, offering advanced sonar views and mapping technology at varied price points.
The premium GPSMAP series is tailored for more seasoned or professional anglers, providing advanced vessel control through high-tech fish finding and chart plotting capabilities.
These series collectively present a broad spectrum of features, screen sizes, and price points, meeting the requirements of a wide range of boaters and anglers.
Best Garmin Fish Finders 2023 – Review
Garmin GPSMAP XSV
GPSMAP XSV series is among the top-tier offerings from Garmin and here's why it is highly regarded:
Advanced Sonar Capabilities: The series offers Ultra High-Definition SideVü and ClearVü scanning sonars, ensuring clear and detailed views of underwater structures and fish schools. The 1 kW CHIRP traditional sonar further adds to its depth capability, making it suitable for both shallow and deep water environments.
Panoptix and LiveScope Support: Livescope provides live sonar imaging of the area around and beneath the boat. You can see the movement of bait and fish in real-time, enhancing the ability to target fish more effectively.
Comprehensive Mapping: With preloaded Garmin Navionics+ integrated coastal and inland mapping, users get unparalleled chart detail and coverage, which is invaluable for navigation and finding fishing spots.
Variety of Screen Sizes: The availability of screen sizes from 7 to 12 inches ensures that boaters and anglers can choose a model that fits their boat's console and their viewing preferences.
Ease of Use and Touchscreen Interface: The GPSMAP XSV series is praised for its easy-to-use interface, making it accessible for anglers of any experience level. The touchscreen functionality on the XSV models was found to work flawlessly even in wet conditions, indicating its suitability for open cockpit or flybridge installations​​.
Networking Capabilities: With advanced networking capabilities, the unit can be linked with the boat's engine, radar, power pole, etc which is beneficial for boats with multiple electronics on board​​.
Price to Feature Ratio: Although the GPSMAP XSV series falls into the higher price range, the plethora of features and capabilities it offers justifies its cost, making it a valuable investment for serious anglers.
The GPSMAP XSV series is particularly aimed at serious fishermen who require advanced sonar technology, high-resolution mapping, and a durable design for an improved fishing and boating experience​.
Garmin Echomap UHD2 93sv with GT56UHD Transducer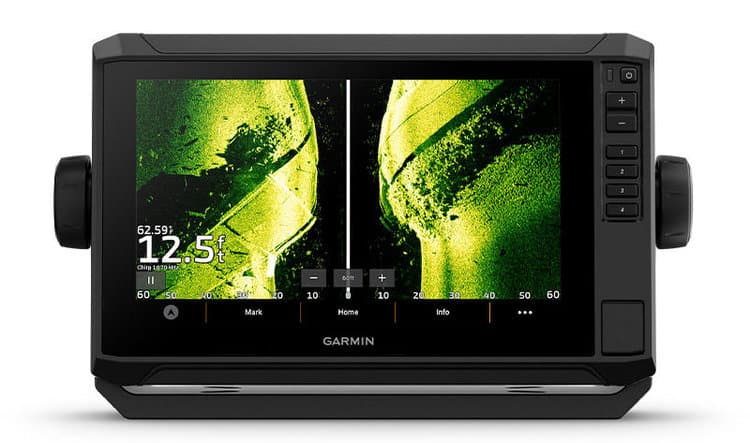 The Echomap UHD2 93sv is one of Garmin's top offerings in the 9-inch screen category, boasting high-definition scanning and advanced features. Here is an overview of its top features and performance:
9-inch High-Resolution Touchscreen: A 9-inch touchscreen with a resolution of 1024 x 600 pixels is relatively large and clear, providing ample screen real estate to view sonar returns, maps, and other data simultaneously.
Ultra High Definition SideVu (Side Imaging) 455 – 1000 kHz: The SideVu in UHD2 93SV provides a detailed, nearly photographic view of what's located on both sides of the boat, up to a depth of 500 ft.
Ultra High-Definition ClearVu (Down Imaging) 455 – 1000 kHz: ClearVu provides a detailed underwater view of submerged structures, fish, and other objects directly below the boat.
High-wide CHIRP Sonar (150 – 240 kHz): CHIRP sonar offers clearer fish arches and better target separation than standard single-frequency sonar.
LiveScope Support: Anglers who are interested in live sonar can add LiveScope to UHD2 93sv.
Mapping: The inclusion of Garmin Navionics+ ensures detailed and accurate mapping for both coastal and inland waters. This aids in safe navigation and helps in locating potential fishing hotspots.
Price ($1199): Considering the features and capabilities it offers, the Garmin Echomap UHD2 93sv provides good value. While it's not the cheapest option available, its performance and features justify its price for those who are looking for more than just a basic fish finder.
In summary, the Garmin Echomap UHD2 93sv with the GT56UHD-TM Transducer is a robust and feature-rich unit that caters to a wide range of fishing and boating needs.
Garmin Echomap UHD2 73sv with GT54UHD Transducer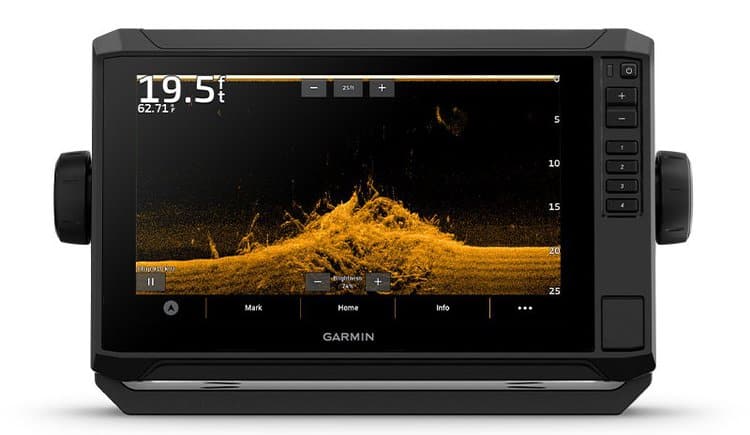 Echomap UHD2 73sv is quite similar in terms of features with UHD2 93sv. The main differences are in sonar capabilities due to different transducers. Here are the key differences between Echomap UHD2 73sv with GT54UHD and Echomap UHD2 93sv with GT56UHD:
7-inch touchscreen: The screen size is a bit smaller in 73sv but it provides a clear and sizable display for easy navigation and interpretation of sonar images.
ClearVü: The ClearVü on the GT54UHD transducer is more limited in terms of its frequency range and depth capability when compared to the GT56UHD. While the GT56UHD offers multiple frequencies for ClearVü and a depth of up to 400 ft, the GT54UHD is confined to the 800 kHz range and a depth of 200 ft.
SideVü: GT54UHD offers a higher UHD frequency (1,200kHz) compared to GT56UHD's highest (1,000kHz). However, the GT56UHD offers an additional middle frequency at 800 kHz.
Transducer Power: The GT54UHD offers a lower SideVü power at 350 W compared to the 500 W of the GT56UHD. Transducer power directly affects the sonar return clarity and definition, the higher the better.
Price ($949): UHD2 73sv is cheaper than 93sv but it offers good value for its price.
Echomap UHD2 73sv is best suited for freshwater fishing boats, smaller powerboats, pontoon boats, and advanced fishing kayaks. Its 7-inch display and comprehensive sonar capabilities make it ideal for boats where space might be limited but advanced functionality is desired.
Garmin Echomap Ultra
The Echomap Ultra series sits at the higher end of Garmin's Echomap line. It's designed for serious anglers seeking a combination of advanced sonar capabilities and detailed cartography.
Display: Available in 10″ and 12″ touchscreen displays that are sunlight-readable and offer keyed-assist features.
Sonar: This series is compatible with both Garmin's GT56UHD and GT54UHD transducers. Hence, it offers high-definition traditional CHIRP sonar, ClearVü, and SideVü scanning sonars. Additionally, it supports Panoptix LiveScope capabilities.
Mapping: Comes preloaded with Garmin's Navionics+ charts for a detailed view of both coastal and inland waters.
Networking: Has advanced networking capabilities that allow sharing of sonar, waypoints, and routes with other networkable Garmin units.
Garmin's Echompa Ultra series is tailored for professional anglers or those who participate in professional tournaments. The high-definition sonar and support for Panoptix LiveScope can be critical for those seeking competitive advantages.
Given the larger screen sizes (10″ and 12″) and networking capabilities, the Ultra series is ideal for larger boats where multiple screens or devices might be used simultaneously, and data sharing across devices is beneficial.
Garmin Striker Vivid
The Garmin Striker Vivid series is tailored for recreational anglers who seek a balance between functionality and affordability. Here are its key features:
Display: Ranges from 4 to 9 inches, depending on the model, with enhanced clarity and brightness.
Sonar: Features traditional CHIRP sonar, ClearVü, and SideVü scanning sonar capabilities, providing a clear view of fish and structures.
GPS: Integrated high-sensitivity GPS to mark waypoints, create routes, and view the boat's speed.
Quickdraw Contours: Has the ability to create personalized fishing maps with 1' contours, covering up to 2 million acres.
The Garmin Striker Vivid series caters to various angling scenarios and boat types. For those with small boats, such as kayaks or Jon boats, the Striker Vivid 4cv would be a fitting choice. It's compact, budget-friendly, and offers the essential sonar features to enhance your fishing experience without overwhelming you with unnecessary functionalities.
Anglers who frequent larger freshwater bodies, like lakes or big rivers, might prefer the Striker Vivid 5cv or 7cv. These models offer larger screens, making it easier to interpret the sonar data, especially when looking for underwater structures or tracking larger schools of fish.
For those who often venture into nearshore coastal waters or have a medium-sized fishing boat, the Striker Vivid 7sv or 9sv might be the best choice. These offer the broadest screen sizes in the series, and the 'sv' models have SideVü capabilities, providing a more comprehensive view of the underwater environment.
In summary, the ideal Striker Vivid model largely depends on the boat size, fishing environment, budget, and desired features. The series is versatile enough to cater to most recreational angling scenarios, ensuring there's a suitable model for almost every angler.
Garmin Echomap Plus 43CV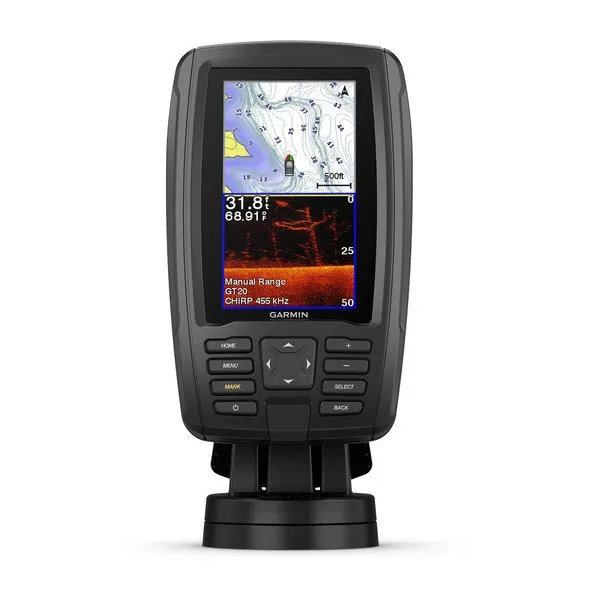 The Echomap Plus 43CV is a budget-friendly fish finder by Garmin in under $300 range. It blends chartplotting and fish-finding functionalities into a compact unit, making it suitable for a range of boating and fishing activities. Here are its key features:
Display: It features a 4.3-inch color display that provides decent clarity and readability in various lighting conditions.
Sonar Capabilities: The device supports CHIRP traditional sonar and ClearVü scanning sonar, giving anglers a clear view of fish and underwater structures. CHIRP provides better target separation, while ClearVü offers near-photographic images of what's beneath the boat.
Mapping: Preloaded with Garmin's BlueChart g2 charts, it provides solid coastal chart coverage. The device also supports Quickdraw Contours, allowing users to create and store custom fishing maps.
Navigation Features: Includes a built-in GPS, letting users mark waypoints, create routes, and view the boat's speed.
The Echomap Plus 43CV is a versatile fish finder suitable for anglers who require both sonar and mapping capabilities. While it's not the largest or most feature-rich in the Echomap lineup, it offers a good balance of performance and value for its size, especially for those with smaller boats or on a moderate budget.
Garmin Striker 4
Striker 4 is one of the cheapest fish finder by Garmin. It's designed for simplicity and effectiveness, targeting anglers who want a no-frills approach to fish finding. Here are its key features:
Display: Comes with a 3.5-inch color screen that, while basic, provides clear sonar readings and is easy to navigate.
Sonar Capabilities: Employs traditional CHIRP sonar, which enhances clarity and target separation compared to non-CHIRP models. This makes spotting individual fish and identifying bait schools more straightforward.
Waypoint Map: While it lacks advanced mapping features, the Striker 4 allows users to view, mark, and navigate to locations, such as brush piles, stumps, and docks.
Built-in GPS: Useful for marking favorite fishing spots and navigating back to them. It also provides speed data, helping anglers to ensure they're trolling at optimal speeds.
The Striker 4 is an excellent choice for beginners, occasional anglers, or those seeking a backup or secondary unit. It's budget-friendly and offers the basic functionalities one needs for successful outings. Its simplicity is its strength, making it a go-to for those who want reliable performance without navigating through a plethora of features.
Garmin Striker Cast GPS
Garmin's Striker Cast GPS is a portable fish finder with its own unique attributes:
Castable Design: As the name suggests, the Striker Cast is a sonar device that can cast out into the water, allowing anglers to scan areas that boat-mounted fish finders might not easily access. It's especially useful for shore-based anglers or those fishing from non-motorized vessels like kayaks or canoes.
Sonar Capabilities: The device provides clear, crisp fish arches and detailed contour images of the underwater environment. It works in both freshwater and saltwater and can scan depths up to 150 feet.
GPS Integration: One of the standout features of the Striker Cast is its built-in GPS. This enables anglers to create custom fishing maps with 1' contours, which can be a game-changer for understanding local fishing spots. The GPS also allows users to mark fishing hotspots, so they can return to productive areas in the future.
Mobile App Compatibility: The Striker Cast pairs with a mobile app on the smartphone or tablet turning the smartphone into a fully functional fish finder. Anglers can view sonar data, customize settings, and even save fishing spots through the app.
Battery Life: The device boasts a 10-hour battery life on a single charge, ensuring a full day of fishing without interruptions.
Ease of Use: It's user-friendly and doesn't require any complicated setups or installations. Just cast it out, and it starts transmitting data back to the mobile device immediately.
The Garmin Striker Cast GPS is a versatile and portable fish-finding solution, catering primarily to shore anglers, ice fishers, and those who fish from smaller, non-motorized vessels. It bridges the gap between traditional boat-mounted fish finders and the needs of anglers who aren't always on a boat but still want the advantages of sonar technology.
How to Choose Garmin Fish Finder
Screen Size
Garmin offers a broad range of screen sizes across its fish finder series. From compact 3.5-inch screens in models like the Striker 4 to expansive 12-inch displays in the Echomap Ultra series, they cater to diverse needs. The display quality is commendable, with high-resolution screens ensuring clarity and readability, even in bright sunlight.
Here is how you should choose the right screen size for your Garmin unit:
Budget: If you're on a tight budget, you might have to opt for a smaller screen size, such as those found in the Garmin Striker 4 series. While compact, they still offer clear imaging.
Fishing Environment: For diverse fishing environments with varying structures or depths, a larger screen can provide a clearer, split-view of sonar returns. If you frequently fish in such conditions, investing in a 7-inch or larger display might be beneficial.
Boat Type: Smaller boats or kayaks might have limited space, making compact screens (4-inch to 7-inch) more suitable. Larger vessels with spacious consoles can accommodate bigger screens (7-inch and above), offering broader views and easier readability at a glance.
Touchscreen
Garmin's touchscreens are known for their responsiveness and intuitive interfaces. Devices like the Echomap UHD and Ultra series provide smooth touch controls, akin to modern tablets. These screens are also designed to perform well in wet conditions, ensuring consistent performance whether there's a splash or light rain.
Here is a general guide on when to prioritize a touchscreen fish finder:
Budget: Touchscreens are found in mid to high-end models. If budget allows, a touchscreen offers intuitive controls and ease of use.
Fishing Environment: For dynamic fishing situations, where swift adjustments are required, touchscreens can be a boon. However, in extreme cold conditions or when wearing thick gloves, buttons might be more practical.
GPS and Mapping
Garmin's roots are in GPS technology, and their expertise shines in their fish finders. Their GPS is precise and fast. Many models come equipped with Quickdraw Contours, allowing users to create custom fishing maps.
Preloaded maps, available in higher-end models like the Echomap series, integrate Navionics data for unparalleled detail.
Garmin's Auto Guidance technology even suggests the best routes to navigate waters safely.
Their mapping capabilities cater to both freshwater and saltwater anglers, highlighting underwater structures, depth changes, and other essential features.
Here is how you should choose Garmin GPS fish finder:
Fishing Environment: For open waters, unfamiliar terrains, or areas with underwater structures, a reliable GPS with detailed mapping is crucial. If you frequently fish in such areas, prioritize advanced GPS and mapping features.
Boat Type: For offshore or larger boats navigating vast water bodies, a robust GPS system with detailed charts is essential. Smaller boats or kayaks in familiar, local waters might do fine with basic GPS features.
Transducer
Garmin provides a range of transducers tailored to different sonar technologies and fishing environments. The GT series (like GT20, GT54, GT56) are some of the popular choices. Some models come bundled with suitable transducers, while in other cases, you might have to purchase them separately.
Here is how to choose the right Garmin transducer for successful fishing:
Fishing Depth: For shallow waters, high-frequency transducers (like CHIRP ClearVü) are suitable. For deeper waters, you'd need a transducer with lower frequencies.
Fishing Environment: In rocky or reef-rich environments, a transducer with DownVü or SideVü capabilities can help in discerning structures.
Boat Type: For fast-moving boats, a thru-hull transducer is ideal. For smaller boats or kayaks, transom mount or trolling motor transducers work well.
Budget: If on a budget, prioritize getting a good-quality traditional sonar transducer. As funds allow, invest in specialized transducers for ClearVü, SideVü, or even Panoptix.
SideVu (Side Imaging)
Garmin's SideVü offers near-photographic images with detailed representations of objects, structure, and fish to the sides of the boat. The images are clear, making it easier to identify individual features underwater.
SideVü technology is available in many of Garmin's fish finder series, including the Echomap UHD, Echomap Ultra, and GPSmap series. The Striker series also has models with SideVü capabilities.
Here is how to choose the best Garmin SideVu fish finder according to your needs:
Display Resolution: The clarity of the side imaging view is crucial. Opt for models that offer higher pixel counts to ensure the finest details are visible. A high-resolution display enhances the already detailed images from the SideVü technology.
Coverage Area: Depending on your fishing environment, you may need a more expansive or narrower side-scanning range. For large open waters, wider scanning angles can cover more ground, making it easier to spot structures or fish schools.
Transducer Compatibility: Not all transducers offer side imaging. Ensure the fish finder model you're considering either comes bundled with a compatible transducer or that you purchase one separately. The GT series of transducers from Garmin, for instance, pairs well with SideVü-enabled devices.
Fishing Environment: For areas rich in underwater structures or where fish tend to congregate around specific features (like fallen trees, wrecks, or rock formations), SideVü becomes invaluable. If you frequently fish in such environments, prioritize high-quality side imaging.
Budget: High-quality side imaging often comes at a premium. Establish a budget and find a model that offers the best SideVü capabilities within that range. While Garmin's top-tier models have exceptional side imaging, even their mid-range offerings provide robust SideVü performance.
LiveScope Compatibility
LiveScope is one of Garmin's most advanced sonar technologies. It provides real-time scanning sonar images, allowing you to see fish swimming, react to your lure, and even show their interactions with other fish and structures—all in real time.
When to Choose a LiveScope Compatible Unit:
Professional Angling: If you're a tournament angler or consider fishing more than just a casual hobby, LiveScope can offer a significant advantage by showing fish behavior and movements in real time.
Fishing in Varied Structures: If you frequently fish in areas with abundant underwater structures, such as submerged trees, rocks, or reefs, LiveScope can provide an unparalleled view of fish within these structures.
Ice Fishing: LiveScope is a game-changer for ice fishing, allowing you to see fish approach your bait in real-time.
Budget: LiveScope is a premium technology and comes with a corresponding price tag. If your budget allows for this investment and you feel the benefits align with your fishing style, it's worth considering.
Boat Type: While any boat can benefit from LiveScope, it's especially useful for larger fishing boats where the technology can be integrated into a comprehensive fishing system. However, even kayak anglers have found ways to utilize LiveScope effectively.
Preference for Real-time Data: If you have a preference for real-time feedback and enjoy observing fish behavior and their interactions with lures, LiveScope is a perfect choice.
Kayak Fishing
Choosing a Garmin fish finder for kayak fishing requires considerations that can differ from selecting units for larger boats. The confined space, mobility, and often hands-on nature of kayak fishing impose unique demands on a fish finder.
Here's a guide to choose Garmin Kayak fish finder for Kayak anglers:
Size and Portability: Kayaks have limited space. Opt for a fish finder with a compact design that offers a clear display without dominating your workspace. Models like the Garmin Striker 4 or the Echomap 43CV provide a good balance between screen size and portability.
Power Source: Given the limited space on a kayak, consider the battery requirements of the fish finder. Smaller, portable units often have energy-efficient designs that can run on smaller batteries, making them ideal for kayaks. Consider how you'll store and secure the battery within the kayak.
Transducer Placement: For kayaks, transducer mounting is crucial. Some kayaks come with dedicated scupper holes or mounting locations for transducers. Garmin often provides transom-mounted transducers, but they can be adapted for kayak use with aftermarket mounting solutions or in-hull installations.
GPS and Mapping Features: While sonar capabilities are essential, having GPS can be invaluable for kayak anglers. It can help you mark productive spots, track your routes, and safely navigate waters. The Garmin Striker series, for instance, offers both sonar and basic GPS functionalities without breaking the bank.
Ease of Installation and Removal: Since kayaks often need to be transported to and from fishing spots, choose a fish finder that's easy to install and remove. Consider quick-release mounts or setups that allow for swift and secure installation/removal.
Display Clarity: Given the outdoor nature of kayak fishing and the possible exposure to sunlight, opt for a fish finder with a bright, readable display in various lighting conditions.
Advanced Features: Depending on your budget and fishing style, you might consider more advanced features like CHIRP sonar, SideVü, or even LiveScope. However, remember that these might come with additional power and installation considerations.
Budget: Kayak fishing setups vary from casual to professional. Define your budget upfront, and prioritize features that are most critical for your style of fishing.