Portable fish finders are compact and small sonar units that can be attached to a boat, cast from shore, or even used for ice fishing. Portable units offer the significant advantage of not requiring permanent installation and can be easily transported between different fishing locations. The ideal portable fish finder adapts seamlessly to varied environments, ensuring that anglers can rely on them no matter where their fishing adventures lead.
Consider these features when buying a portable fish finder:
Clear sonar imaging to accurately depict underwater structures and fish locations
Reliable battery life for extended use
User-friendly interface
GPS functionality for navigation and marking fishing spots.
Compact and lightweight for effortless transportation
Versatile enough to be effective in various fishing environments, from a kayak, boat, or the shore.
Value for money.
Here is a quick look at the best portable fish finders in the market:
Deeper PRO+ Wi-Fi Fish Finder With GPS
Garmin Striker 4 with Portable kit
Humminbird Ice Helix 7 CHIRP GPS G4 All Season
Lowrance FishHunter 3D: Wireless fish finder with GPS and Mobile App
Lucky Handheld Fish Finder
Garmin Striker Cast: Smartphone Fish Finder with Wireless Sonar and GPS
6 Best Portable Fish Finders – Review
1. Deeper PRO+ Wi-Fi Fish Finder With GPS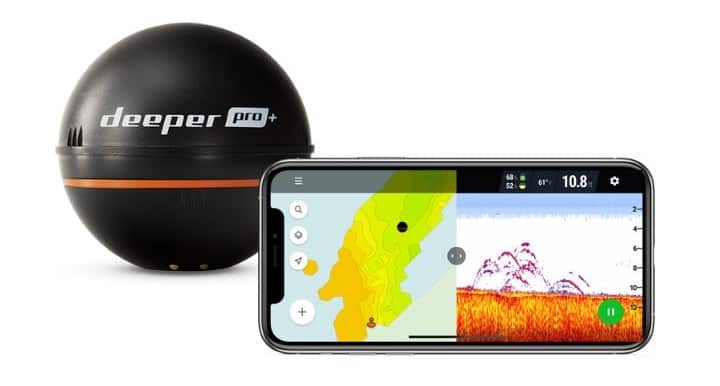 Deeper Pro+ is our top-rated portable fish finder because it is castable, offers GPS mapping, provides dual-frequency sonar for detailed underwater scanning, and connects to the smartphone or tablet, making it versatile and easy to use in various fishing scenarios. Here are some key features and benefits of the Deeper Pro+ fish finder:
Wireless and Castable: The Deeper Pro+ is a castable fish finder, which can attach to the fishing line and cast into the water like a lure. The device then connects to the smartphone or tablet via Wi-Fi and provides sonar images through the Deeper App.
Wireless Range (330 feet): The casting range of 330 feet allows anglers to cover a wide area and locate fish in difficult spots like near the shoreline, or under overhanging trees.
Versatile Use: It can be used for various types of fishing, including shore fishing, kayak fishing, ice fishing, and boat fishing. Its versatility makes it a popular choice among anglers.
GPS Integration: The Pro+ model comes with GPS capabilities, allowing anglers to create bathymetric maps of the water body they are fishing in. One can also mark waypoints, which is helpful for keeping track of productive fishing spots.
Dual Beam Sonar (90/290 kHz): The dual-frequency sonar offers precise and detailed underwater scanning, providing information about water depth, temperature, and the location and size of fish. It can scan depths up to 260 feet (approximately 80 meters) and offers a wide coverage area for effective fish detection.
Portable and Compact: The Deeper Pro+ is compact and easy to transport, making it suitable for anglers on the go. It's also easy to charge and use, with a battery life that should last for several hours of fishing.
Fast Wi-Fi Connectivity: Deeper Pro+ shines in providing faster data transfer through Wi-Fi. This allows anglers to receive sonar data more quickly and in higher detail without any lag.
2. Garmin Striker 4 with Portable Kit
Garmin's Striker 4 with Portable Kit is a popular and well-regarded portable fish finder option, especially for those who prefer a reliable and trusted brand like Garmin. Here are its key features and benefits:
Easy-to-Use Interface: The Garmin Striker 4 has a user-friendly interface with a 3.5-inch color display that's easy to read in various lighting conditions. It's designed for simplicity, making it suitable for both beginners and experienced anglers.
Portable Kit: The portable kit includes a carrying case, a rechargeable battery, and a transducer with a suction cup mount and float. This makes it easy to transport and use the fish finder in various fishing environments, including boats, kayaks, or ice fishing.
CHIRP Sonar Transducer: The Striker 4 comes with a CHIRP (Compressed High-Intensity Radiated Pulse) sonar transducer that operates at 77/200 kHz frequencies. CHIRP technology provides more detailed and accurate sonar readings compared to traditional sonar.
Built-in Flasher: The built-in flasher is a valuable tool for ice fishing and vertical jigging. It provides real-time information about fish and the bottom structure, allowing anglers to adjust their fishing technique accordingly.
Built-in GPS: This fish finder includes a built-in GPS with the capability of storing waypoints, tracking routes, and checking the boat speed. GPS functionality is useful for navigation and for returning to fishing spots.
Affordability: Compared to some other fish finders on the market, the Garmin Striker 4 with Portable Kit is often considered a budget-friendly option while still providing reliable performance.
3. Humminbird Ice Helix 7 CHIRP GPS G4 All Season
Humminbird's Ice Helix 7 is the best portable fish finder for Ice Fishing due to its features, clarity, and build quality. It comes with a carrying case, battery, and charger, specifically designed for easy transportation and use in ice fishing scenarios.
here's an overview of the Humminbird Ice Helix 7 as a portable fish finder:
High-Resolution Display: The Ice Helix 7 offers a 7-inch widescreen display with high resolution. This provides clear and crisp imaging, making it easier for anglers to identify fish, structure, and bottom contours.
Dual Spectrum CHIRP Sonar: This feature allows for clearer and more detailed returns. Anglers can either get a wide mode for maximum coverage or a narrow mode for maximum detail.
GPS and Mapping: The Ice Helix 7 typically comes with built-in GPS and base maps. Some models also allow for additional map cards to be used.
Interference Rejection: It has multiple settings to reduce interference from other nearby fish finders, which is a useful feature when multiple anglers are fishing close to each other on the ice.
Flasher View: For those who prefer a traditional flasher view (common for ice fishing), the Ice Helix 7 provides this as an option alongside its 2D sonar view.
Build Quality: Humminbird has a reputation for building quality products, and the Ice Helix 7 is no exception. It's built to withstand the cold conditions of ice fishing.
User-Friendly Interface: The menu system is intuitive and easy to navigate, even for those new to fish finders.
4. Lowrance FishHunter 3D: Wireless fish finder with GPS and Mobile App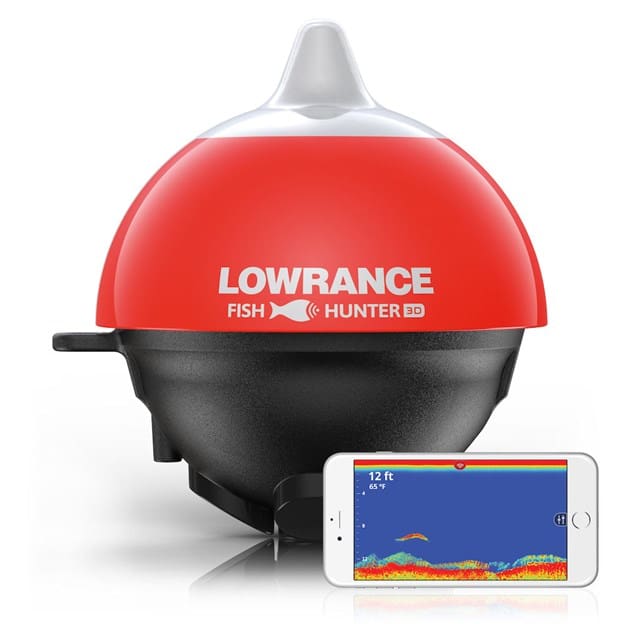 Lowrance's FishHunter 3D is a versatile, portable, and affordable fish finder option that provides a range of useful features including 3D imaging, custom mapping, and a user-friendly interface, making it a solid choice for anglers on the go. Here are its notable capabilities:
Castable Design: The FishHunter 3D has a castable sonar device with a design similar to a softball-sized bobber. It's Wi-Fi-enabled, allowing it to pair with a smartphone or tablet, providing a flexible and mobile solution for fish finding​. The castable nature allows it to be used from shore or from a boat.
Wireless Range (200 feet): The wireless range of 200 feet is a decent distance for a castable fish finder. Anglers cover a substantial area of water when casting the device. This range should be sufficient for most fishing scenarios, including shore fishing, kayak fishing, and ice fishing.
Transducer and Sonar Capabilities: It features five tri-frequency transducers that can emit at frequencies of 381kHz, 475kHz, and 675 kHz, providing good accuracy and target separation. This tri-frequency approach ensures its usability in both shallow and deep waters, with a maximum depth capability of 160 feet​​.
3D Imaging: One of the standout features of the Lowrance FishHunter 3D is its ability to provide 3D imaging of the underwater environment. This offers a more detailed and immersive view of the fish and structure beneath the water.
Mapping and GPS: The FishHunter 3D can create bathymetric maps of the water body you're fishing in, which can be useful for understanding the underwater terrain. It also has GPS capabilities for marking waypoints and tracking the routes.
Battery Life: The Lowrance Fish Hunter 3D offers around 10 hours of continuous use on a single charge. This aligns with many standard portable fish finders, allowing for a full day of fishing without needing a recharge.
5. Lucky Handheld Fish Finder
The Lucky Handheld is one of the most affordable portable fish finders on the market, priced at under $50. It is a basic, budget-friendly option for those wanting some assistance in locating fish and understanding underwater terrain.
Here are some key features and considerations related to the Lucky Handheld Fish Finder:
Simple Display: The fish finder has a simple display that shows segmented depth measurements and fish icons to represent detected fish. The segmented depth display and fish icons offer a straightforward visualization of underwater conditions and fish presence.
Transducer with Float: The fish finder comes with a transducer that can float in the water. This transducer sends sonar signals to detect fish and underwater terrains. It can be suspended from a boat or kayak using the provided float.
Depth Measurement: The feature that stands out is the fish finder's ability to measure water depth with accuracy. This aids in determining which bait or fishing method to use based on the depth.
Sensitivity Setting: The display has a sensitivity setting, which can be adjusted based on the type of bottom terrain. This helps prevent false fish detections in rocky or busy terrains.
Terrain Differentiation: The device can provide indications if the bottom is grassy or rocky based on the sonar feedback.
Portability: It's a small handheld device that can also fit in the pocket. It's designed for portability and ease of use.
Non-Waterproof and Affordable Construction: The device is described as not being waterproof and is of a cheaper construction, which is reflected in its affordable price.
Uses AAA Batteries: It uses removable AAA batteries and the battery life can vary significantly based on the type and quality of the AAA batteries used. Generally, with standard AAA batteries, you might expect 4-6 hours of continuous use.
6. Garmin Striker Cast: Smartphone Fish Finder with Wireless Sonar and GPS
Garmin's Striker Cast is another portable fish finder option that has gained popularity among anglers. Here are some key features and benefits of the Garmin Striker Cast:
Castable Design: Similar to the Deeper Pro+, the Garmin Striker Cast is a castable fish finder with a wireless range of 200 feet.
Bluetooth Connectivity: Striker Cast connects to the smartphone or tablet via Bluetooth. Bluetooth consumes less power compared to Wi-Fi, which can help extend the battery life of the fish finder. While Wi-Fi offers extended range and faster data transfer.
Dual Sonar Frequencies (260/455 kHz): The inclusion of two frequencies allows anglers to switch between high and low frequencies, which can be useful for different fishing conditions. Higher frequencies (e.g., 455 kHz) are suitable for shallow water and better target separation, while lower frequencies (e.g., 260 kHz) can penetrate deeper and provide a broader view of the underwater environment.
Smartphone Integration: Anglers can view sonar data and control the device through the Garmin Fish & Hunt app. This app provides real-time sonar information and offers various features to enhance the fishing experience.
Mapping and Waypoints: The Garmin Fish & Hunt app also allows anglers to create custom fishing maps and mark waypoints, helping to keep track of productive fishing spots and navigate the water more efficiently.
Long Battery Life: The Garmin Striker Cast boasts a battery life of up to 10 hours. This duration should be sufficient for most anglers for a day of fishing.
What is a Portable fish finder
A portable fish finder is a compact and mobile device used by anglers to locate and identify fish underwater. Unlike fixed fish finders that are permanently mounted on a boat, portable fish finders can be easily moved from one location to another, making them ideal for various fishing scenarios, including ice fishing, kayak fishing, and shore fishing.
Types of Portable Fish Finders
Here's a breakdown of the different types of portable fish finders and how they operate:
1. Handheld Fish Finders
Handheld Fish Finders are compact fish finders that can fit in the palm of a hand, much like a smartphone or a GPS unit. They often have a built-in antenna and a smaller screen.
How it operates:
The transducer, typically attached via a cable, is cast into the water or attached to the side of a boat.
The handheld unit processes the data from the transducer and displays it on its screen.
Most handheld units use batteries as a power source.
They display depth, underwater structures, and sometimes even temperature.
2. Wireless Fish Finders
Wireless Fish Finders operate without the need for wired connections between the transducer and the display unit. Many wireless fish finders connect to smartphones or tablets via Bluetooth or Wi-Fi, turning the smartphone into a sonar display unit.
Wireless fish finders are often called castable fish finders because the transducer can be cast into the water using a fishing rod, and it transmits data wirelessly back to a paired device, like a smartphone or tablet.
How it operates:
The wireless transducer is cast into the water or floats on the surface.
It sends sonar signals underwater and receives the echoes, then transmits this data wirelessly to a paired device.
An app on the paired device processes and displays the information.
These are typically battery-powered and may offer features such as fish alarms, depth mapping, and GPS integration, depending on the app.
3. Fish Finder with Portable Kit
This is a more comprehensive setup that includes a standard fish finder along with a portable kit. The portable kit often contains a carrying case, portable battery, suction cup mount, or other mounting solutions, and sometimes a portable transducer.
How it operates:
The fish finder operates similarly to a standard fixed fish finder, but thanks to the portable kit, it can be easily set up and taken down.
The transducer can be mounted using the provided solutions, like a suction cup.
The fish finder unit is powered by the portable battery in the kit.
It will display depth, fish arches, water temperature, and other features typical of fish finders.
This type provides flexibility for anglers who use different boats or fishing locations and don't want to install a permanent unit.
How to Choose Portable Fish Finder
When selecting a portable fish finder, various factors come into play based on individual needs. Here is a guide on what to look into the features like GPS, Sonar, and battery. Plus how to choose the right unit for bank fishing or kayak within a particular budget.
GPS
Accuracy: Ensure the GPS in the portable fish finder provides precise location tracking. This is crucial for marking fishing hotspots and navigating back to specific areas.
Waypoint Storage: A good GPS should allow you to save multiple waypoints. This lets you mark and revisit productive fishing spots, routes, and other points of interest.
Integrated Maps: Some portable fish finders come with preloaded maps or the ability to load maps. These can be invaluable for understanding the underwater terrain and plotting your fishing strategy.
Update Frequency: This refers to how often the GPS refreshes your position. A higher update frequency provides real-time tracking, which is especially beneficial when moving at higher speeds.
Ease of Use: The GPS interface should be user-friendly, allowing you to quickly mark fishing spots, plot routes, and view your location without hassle.
Sonar
Frequency Options: Portable fish finder with multiple frequencies provide flexibility. Higher frequencies (e.g., 200kHz) are better for shallow waters, while lower frequencies (e.g., 50kHz) penetrate deeper.
Cone Angle & Coverage: A wider cone angle covers a larger area but might provide less detail. A narrower cone provides detailed views but over a smaller area. Some portable fish finders offer adjustable cone angles.
Resolution & Screen Size: A higher-resolution screen displays clearer sonar images. While portability might necessitate a smaller screen, ensure it's large enough to read easily.
Depth Capability: Ensure the sonar is capable of reading the depths you typically fish in. Portable fish finders generally handle shallower waters, but some models are adept at deeper readings.
Battery
Battery Life: For portable fish finders, extended battery life is crucial, especially if you're planning longer trips. Look for a battery that can last at least 8-10 hours on a single charge.
Recharge Time: Check how long it takes to fully recharge the battery. Shorter recharge times can be beneficial if you're on multi-day trips.
Battery Type: Lithium batteries are often preferred because they are lightweight, have a longer lifespan, and maintain consistent power output. However, they can be pricier than traditional alkaline or lead-acid batteries.
Battery Indicator: It's helpful to have a clear battery level indicator to prevent being caught off-guard by a dying battery.
Power Saving Features: Some fish finders come with features like automatic shut-off after periods of inactivity, which can prolong battery life.
Bank Fishing
Castability: Opt for a castable fish finder (often wireless) that allows you to cast the transducer into the water using a fishing rod. This capability is essential for bank fishermen to explore various areas from a stationary position.
Wireless Connectivity: Ensure that the sonar device can connect wirelessly to your smartphone or tablet, so you don't have to deal with wires on the shore.
Battery Life: Choose a fish finder with a good battery life, as you might be fishing for extended periods without the possibility to recharge.
Range: Check the range of the wireless connection between the transducer and your device to ensure it covers the distance you're likely to cast.
Kayak Fishing
Screen Size & Readability: Given the limited space on a kayak, a compact fish finder is ideal. However, make sure the screen is still large enough for easy readability and that it has good visibility under sunlight.
Waterproof Rating: It's crucial to choose a portable fish finder with a good waterproof rating, as kayaks are prone to splashes.
Depth & Sonar Coverage: Ensure the portable fish finder provides adequate depth readings for the waters you typically fish. Also, consider devices with side-scan or down-scan sonar to get a comprehensive view beneath the kayak.
Power Source: Check how the fish finder is powered. Portable units often have internal batteries. Consider the battery life and how easy it is to recharge or replace the batteries.
GPS & Mapping: While not a necessity, having GPS and mapping functionalities can be beneficial for kayak fishermen, especially in larger bodies of water, to mark hotspots and navigate back to specific locations.
Budget
Low Budget: If you're on a tight budget, prioritize essential features like depth reading, basic fish icons, and a clear display. Handheld units or basic wireless models may fit this range.
Mid-Range Budget: For a moderate budget, look for portable fish finders with additional features such as color displays, better resolution, temperature readings, and basic GPS functionalities.
High Budget: If you can spend more, you can opt for portable fish finder with advanced features like detailed maps, multiple sonar frequencies, and integration with smartphone.