7-inch fish finders are a popular choice for both recreational and serious anglers due to their compact size and feature-rich capabilities. They typically come with high-resolution displays, offering clear and detailed sonar readings with technologies like CHIRP, Down Imaging, and sometimes Side Imaging. These units often include GPS functionality with basic to advanced chartplotting features, making navigation and waypoint marking easier.
The 7-inch screen size strikes a balance between portability and readability, fitting well on a wide range of boat sizes. While they offer a range of advanced features, these fish finders are generally more affordable than larger models, making them a good choice for those who want a mix of functionality and value.
Humminbird Helix 7 Mega SI
The Humminbird HELIX 7 MEGA SI GPS G4 is a strong choice for a 7-inch fish finder. Here's a brief overview of its features:
Screen Size and Quality: It has a 7-inch display that provides clear, high-resolution images.
Side Imaging and Down Imaging: This model is equipped with MEGA Side Imaging (SI) and MEGA Down Imaging, providing detailed views of the structure and fish on the sides and beneath your boat. The quality of imaging is one of its strong points, offering high-resolution images.
GPS Functionality: It includes GPS mapping capabilities, allowing you to mark waypoints and navigate waters more effectively.
User-Friendly Interface: The interface is generally considered intuitive and easy to navigate.
Garmin Echomap UHD2 7 SV Touchscreen Chartplotter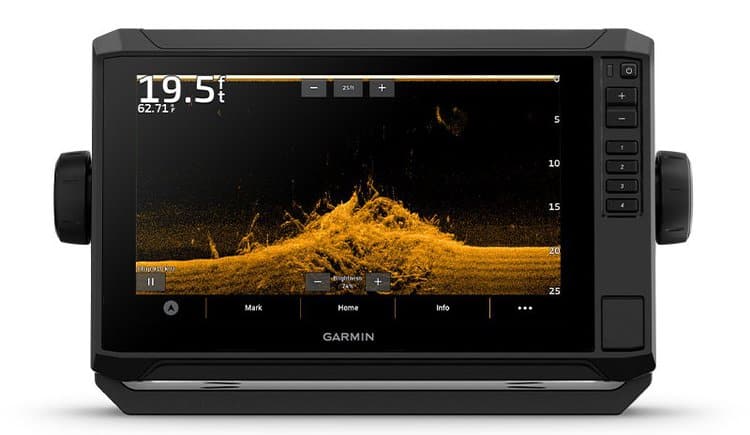 The Garmin ECHOMAP UHD2 73SV is another excellent choice for a 7-inch fish finder. Key features include:
Touchscreen Interface: The 7-inch high-resolution touchscreen and button combination makes it easy to use. The display quality is high, offering clear visibility even in bright conditions.
Ultra High-Definition Scanning: This model includes Ultra High-Definition SideVü and ClearVü scanning sonars, providing detailed images of what is beneath and to the sides of your boat. These sonar technologies are known for their clarity and detail.
Preloaded Mapping: Comes with preloaded LakeVü g3 inland maps covering over 17,000 lakes.
Networking and Connectivity: This unit supports connectivity with various devices and networks, enhancing its usability and integration with other equipment.
Lowrance Elite FS 7 touchscreen fish finder
The Lowrance Elite FS 7 is a competitive option in the 7-inch fish finder category. Notable features include:
Display: It features a 7-inch screen with good resolution and brightness, offering clear visibility even in direct sunlight.
Touchscreen Interface: It is known for having a user-friendly interface, with touchscreen functionality that makes navigating through menus and features quite intuitive.
Active Imaging transducer: Provides high-resolution images of fish-holding structure with Active Imaging 3-in-1 transducer sonar.
FishReveal: Combines the detail of CHIRP sonar and the clarity of DownScan Imaging.
Preloaded Mapping: Includes C-MAP Contour+ with detailed mapping for over 8,000 U.S. lakes and coastal waters.
Garmin Striker Vivid 7 SV
The Garmin Striker Vivid 7SV is another popular fish finder with distinct features that make it a worthy consideration. Here's a brief overview:
Screen and Display: It features a 7-inch screen with vivid color palettes to enhance the visibility of what is beneath and around your boat. The display is clear and easy to read in various lighting conditions.
Sonar Capabilities: This model comes with high-frequency sonar, including ClearVü and SideVü scanning capabilities, providing detailed images of structures, objects, and fish.
GPS Functionality: It includes a built-in GPS which allows anglers to mark waypoints, create routes, and view your boat's speed. However, it does not support detailed mapping like some other models.
Lowrance Hook Reveal 7 TripleShot
The Lowrance Hook Reveal 7 TripleShot is another option in the 7-inch fish finder category, offering a unique set of features. Here's a concise overview:
Screen and Display: It has a 7-inch display with SolarMax technology, designed to enhance visibility in outdoor conditions. The screen offers good clarity and detail.
Sonar Capabilities: The 'TripleShot' in its name refers to its triple sonar capability – traditional High CHIRP sonar, SideScan, and DownScan Imaging. This combination provides a comprehensive view beneath and to the sides of your boat, offering good fish and structure detection.
GPS and Mapping Features: It comes with an integrated GPS and preloaded mapping options. 
How to Choose 7-inch Fish Finder
Choosing a 7-inch fish finder involves considering several key factors and understanding the range of features these units typically offer. The price range for 7-inch fish finders varies, but you can expect to find models generally in the range of $400 to $1000 or more, depending on the features and brand. Here's how to make an informed choice:
Features to Consider in 7-inch Fish Finders:
Screen Quality: Look for a high-resolution, color display that's readable in direct sunlight and from different angles. Touchscreen functionality is a plus for ease of use but may cost more.
Sonar Technology: Most units offer traditional CHIRP sonar for good underwater detail. Advanced models include Side Imaging and Down Imaging (or equivalent technologies) for a more detailed view of the structure and fish around your boat.
GPS and Mapping: Built-in GPS for navigation and the ability to mark waypoints is essential. Some units come with preloaded maps, while others offer the ability to download or purchase additional maps.
Networking Capabilities: Higher-end models often allow for networking with other devices, such as radar, autopilot systems, or additional fish finders.
7-inch Fish Finders Price Range and What to Expect:
$400 – $600: Basic models with good sonar, GPS functionality, some may have Down Imaging, but fewer advanced imaging features.
$600 – $800: More advanced CHIRP sonar, better screen resolution, Side and Down Imaging might be included, and better GPS and mapping features.
Above $800: High-end models with the best resolution, advanced sonar technologies (like MEGA Imaging in Humminbird or Ultra High-Definition in Garmin), touchscreen interfaces, and comprehensive networking capabilities.