A fish finder GPS combo is an integrated electronic device that combines the functionalities of both a fish finder and a GPS. This combination offers boaters and anglers several distinct advantages, making it an invaluable tool for various fishing scenarios.
Premium GPS fish finders also offer detailed marine charts with high-resolution sonar imaging. These charts, when combined with detailed sonar data, allow users to identify underwater structures, depth contours, and potential fishing hotspots. Such features are particularly useful in large bodies of water where identifying promising fishing areas can be challenging.
The best fish finder GPS combos in the market are:
Garmin GPSMAP 943XSV
Humminbird Helix 7 Mega SI GPS G4
Lowrance Hook Reveal 5 Splitshot with CHIRP DownScan and GPS
Garmin Striker Vivid 4
Garmin Echomap UHD2 7″ ChartPlotter
When choosing a fish finder with GPS, consider your budget first and foremost, ensuring you get the best value for your money. Look for devices that come with detailed maps or are compatible with advanced mapping systems, especially if you're navigating large or unfamiliar waters. Match the device's compatibility with your boat's size and type.
For clearer underwater images, prioritize higher sonar frequencies, especially if you're fishing in saltwater or deeper regions. If you're keen on viewing fish and structures on either side of your boat, opt for models with side imaging.
A larger screen with high display resolution will provide clearer visuals, and if you prefer intuitive controls, a touchscreen may be worth the investment.
Best Fish Finder GPS Combo 2023 – Review
1. Garmin GPSMAP 943XSV
Garmin's GPSMAP 943XSV is a robust and feature-rich chartplotter and sonar combo that offers value to both casual boaters and serious anglers.
The GPSMAP 943XSV boasts a high-sensitivity internal 10 Hz GPS/GLONASS receiver. This means it can update position and heading ten times per second, ensuring accurate and smooth vessel movement on the map. This feature is particularly beneficial for those navigating at higher speeds or in frequently changing conditions.
The unit comes with pre-loaded Garmin Navionics+ that provides detailed charts of both coastal waters and inland lakes. The charts offer high-resolution bathymetry, showing depth contours, underwater structures, and other key features that can aid in navigation and fishing. Anglers benefit from detailed contour data, which can help in identifying potential fishing hotspots or understanding the underwater terrain better.
The GPSMAP 943XSV offers built-in support for a variety of sonar types, including CHIRP traditional, ClearVü, SideVü scanning sonars, and even Ultra High-Definition scanning sonar. This gives a clear view of what lies beneath and to the sides of your boat, enhancing your fishing and navigating experience.
The unit features a 9-inch touchscreen display, which is sizable enough for clear viewing but compact enough for installation on a variety of boat consoles.
Given its advanced features and screen size, the Garmin GPSMAP 943XSV is versatile and can be used on a variety of boat types, from smaller fishing boats to larger recreational vessels. Its range of sonar capabilities makes it suitable for both shallow and deep waters.
Pros:
High-Resolution Display
Versatile Sonar Capabilities
Highly Sensitive GPS
Detailed Premium Charts
Networking Capabilities
Cons:
Expensive
Not suitable for small boats
2. Humminbird Helix 7 Mega SI GPS G4
Humminbird's Helix 7 Mega SI GPS G4 is a feature-packed fish finder that offers excellent value for money. Its blend of advanced sonar capabilities and reliable GPS and mapping options makes it a great fit for a wide range of boats and fishing environments.
It comes with an integrated GPS system that offers fast and accurate positioning. This aids in efficient navigation and allows anglers to mark waypoints, track routes, and view boat speed seamlessly.
The unit is equipped with Humminbird's BaseMap, providing a clear view of underwater terrain and surrounding points of interest. Additionally, it's compatible with premium mapping solutions like LakeMaster and Navionics+, offering detailed insights into thousands of lakes and coastal areas.
One of the standout features of this model is its MEGA Side Imaging and MEGA Down Imaging, providing crystal-clear views up to 125 feet below and to the sides of your boat. The CHIRP sonar ensures improved target separation and reduced noise for a clearer understanding of underwater structures and fish.
The unit boasts a 7-inch widescreen display. The screen is large enough for split-view functions, allowing users to view sonar, maps, and other data simultaneously.
Given its feature set and screen size, the Helix 7 is versatile and suitable for various boat types, including kayaks, small to medium fishing boats, and recreational vessels. Its sonar capabilities are apt for both freshwater and nearshore saltwater fishing scenarios.
Pros:
Sensitive GPS
Premium charts compatibility
Utlra high-defintion sonar and imaging
High-resolution display screen
Suitable for small boats
Cons:
Expensive for beginner anglers or those on a budget
No touchscreen
3. Lowrance Hook Reveal 5 SplitShot
Lowrance's Hook Reveal 5 Splitshot offers a compelling mix of sonar capabilities, GPS features, and mapping options in under $500 price range. It's designed for anglers who want reliability without breaking the bank, making it a fit for a variety of smaller boat types and fishing scenarios.
The in-built GPS allows anglers to navigate confidently, mark waypoints, follow trails, and identify their current position quickly.
This unit is equipped with Lowrance's C-MAP charts, offering a detailed view of underwater structures, contours, and points of interest. Additionally, it features Genesis Live, allowing users to create custom maps in real-time with depth, vegetation, and bottom hardness details.
The fish finder incorporates both CHIRP sonar and DownScan Imaging. CHIRP sonar enhances fish target separation and provides clearer images, while DownScan offers near-photographic images of the underwater environment, making it easier to identify fish-holding structures.
The unit features a 5-inch color display. While not as large as some other models on the market, it's sufficiently sized for clear viewing and is designed to be user-friendly with straightforward controls.
Given its compact size and feature set, the Hook Reveal 5 Splitshot is suitable for smaller boats, kayaks, and inflatable vessels. It's an excellent choice for freshwater anglers and those who fish in shallow saltwater environments.
Pros:
Affordable
Detailed charts
Detailed sonar
FishReveal
Auto-tuning sonar
Bright screen
Suitable for small boats
Cons:
No Side Imaging
Relatively small screen for split-views
4. Garmin Striker Vivid 4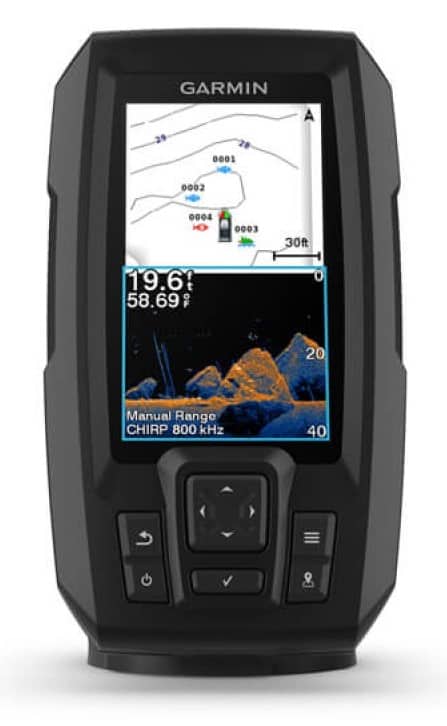 Garmin Striker Vivid 4 is a cheap GPS fish finder that delivers on its promise of basic GPS and sonar functionalities. Its compact size and straightforward features make it a great fit for small boats and anglers who prefer a no-frills fishing experience.
The Striker Vivid 4 comes equipped with a basic GPS, allowing users to mark waypoints, create routes, and view boat speed.
Unlike some of the more advanced fish finders, the Striker Vivid 4 does not come with detailed charts. However, it does feature a custom contour mapping capability known as Quickdraw Contours. This allows users to create their own fishing maps with 1-foot contour detail, which can be especially useful in waters not covered by traditional maps.
The unit offers CHIRP traditional sonar and ClearVu. CHIRP sonar provides clearer fish arches and excellent target separation. The Vivid series is named for its enhanced color palettes, enabling users to distinguish between fish and structure more clearly than before.
It comes with a 4-inch diagonal screen. While compact, the display is clear and provides enough space for viewing sonar data effectively.
Given its compact size and essential feature set, the Striker Vivid 4 is ideal for smaller boats like kayaks, canoes, jon boats, and inflatables. It's also a great choice for ice fishing setups.
Pros:
Budget-friendly
Compact
Easy to use
Easy to install
Good sonar capabilities
Custom mapping option
Cons:
5. Garmin Echomap UHD2 73SV Chartplotter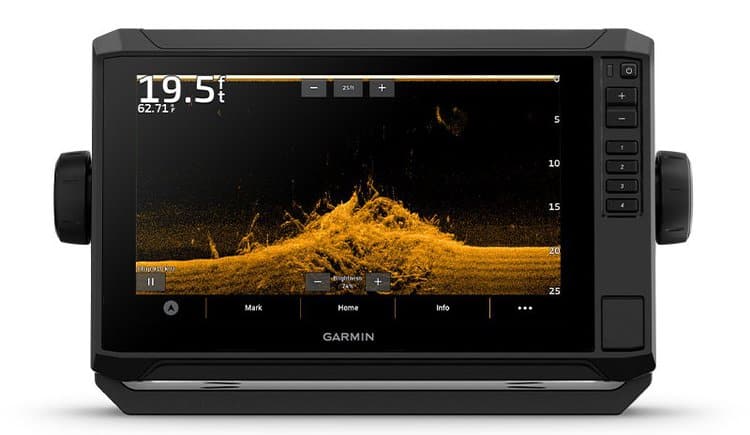 Garmin's ECHOMAP UHD2 73SV, with the GT54UHD-TM Transducer and Garmin Navionics+ U.S. Inland Mapping, offers a comprehensive package for serious anglers and boaters. Its combination of UHD sonar, detailed mapping, and a responsive touchscreen interface makes it a solid investment for those seeking reliable fishing electronics under the $1000 budget.
The ECHOMAP UHD2 73sv boasts a fast and accurate internal GPS GLONASS module that offers 10 Hz update frequency.
This model comes preloaded with Garmin's Navionics+ U.S. Inland Mapping, offering detailed charts of thousands of U.S. lakes. The included charts highlight depth contours, shallow water shading, and other vital details for navigating and locating fishing spots. Moreover, it supports other Garmin premium mapping solutions, allowing for further flexibility.
Paired with the GT54UHD-TM Transducer, the ECHOMAP UHD2 73SV delivers Ultra High-Definition ClearVü and SideVü scanning sonars. This provides sharp and clear images of structures, fish, and underwater topography. The unit also supports traditional CHIRP sonar, which ensures better target separation and clarity in deeper waters.
The unit features a 7-inch touchscreen display, which is bright and readable under various lighting conditions. The interface is intuitive, making it easy for users to switch between charts, sonar views, and other functionalities.
Pros:
Sensitive GPS
Detailed Charts
Ultra high-definition sonar
Touchscreen
Cons:
How to choose the Best Fish Finder GPS Combo
Budget
Choosing the best fish finder GPS combo within a budget requires understanding the specifications offered in various price ranges and discerning which features are essential for your specific needs. Here's a breakdown to help guide your decision:
1. Entry-Level under $200
Features: Basic GPS functionality, traditional 2D sonar, and a smaller screen (usually around 4 to 5 inches). Might not have advanced mapping options or high-resolution displays.
Best For: Occasional anglers or those who fish in familiar waters and just need basic depth and fish location information.
Value Proposition: While they might lack advanced features, these units give you essential data at an affordable price.
2. Mid-Range under $500
Features: Improved GPS with better accuracy, CHIRP sonar for better target separation, and potential side or down imaging. Screens are larger (5 to 7 inches) with better resolution. Some compatibility with premium mapping software.
Best For: Regular anglers who fish in diverse locations and conditions and need more detailed underwater information.
Value Proposition: These units strike a balance between advanced features and affordability, offering a good blend of functionality for most anglers.
3. High-End $1000 and above:
Features: Advanced GPS with fast refresh rates, high-resolution touchscreens (usually 7 inches and above), MEGA or Ultra HD sonar imaging, side and down imaging, and built-in Wi-Fi for software updates and map downloads. Compatibility with premium mapping options is standard.
Best For: Professional anglers, guides, or those who demand the best in terms of features, clarity, and accuracy.
Value Proposition: Premium units offer cutting-edge technology and the most detailed underwater views, ensuring you have all the tools you need to find and target fish effectively.
Maps
The mapping feature in a fish finder display detailed underwater charts, showcasing depth contours, structures, and other points of interest, aiding in navigation and locating fishing spots.
Consider the below mappings solutions when buying a GPS Fish Finder:
Preloaded Maps: If you're fishing in well-known waters or popular fishing destinations, opt for a unit that comes with preloaded maps. These will offer detailed information about the water bodies, including depth contours, points of interest, and potential fishing hotspots.
Custom Mapping: If you often fish in less-explored or remote areas, consider a device that allows for custom mapping. This lets you create your own maps based on real-time sonar data, giving you a more accurate and up-to-date representation of the underwater terrain.
Map Upgrade Options: Ensure the device is compatible with advanced mapping solutions like Navionics, LakeMaster, or BlueChart. These offer more detailed and updated charts, which can be crucial if you're navigating large or frequently changing water bodies.
Overlay Capabilities: Some advanced units allow for overlaying sonar data on maps, which helps in identifying structures, contours, and fish more easily.
Sonar Frequency
Sonar frequency determines how deep you can find fish using fish finder. Higher frequencies provide finer detail but are best for shallower waters, while lower frequencies penetrate deeper but with less detail.
Consider the below scenarios when choosing the sonar frequency:
Shallow Water: Higher frequencies, often in the range of 200kHz to 800kHz, are ideal as they provide more detail.
Deep Water: Lower frequencies, typically 50kHz to 83kHz, are better as they can penetrate deeper.
Versatility: CHIRP (Compressed High-Intensity Radiated Pulse) sonar sends multiple frequencies at once, providing a broader range of information and is suitable for varying depths.
Side Imaging
Side imaging provides a view of the underwater environment to the sides of your boat, offering a clearer picture of structures, contours, and fish schools.
Here is why you should consider Side Imaging in a GPS fish finder:
Detailed Underwater Views: Side imaging offers a clear, picture-like view of the underwater environment to the sides of your boat. This allows anglers to see structures, submerged objects, and fish in high detail.
Wider Coverage: Traditional sonar typically provides a view of the area directly beneath the boat. With side imaging, you can scan large areas of water in a shorter time since it covers both sides of the boat, often extending several hundred feet to each side.
Structure Identification: Side imaging is especially effective at revealing the layout of submerged structures like fallen trees, rocks, shipwrecks, and underwater terrain. This helps anglers pinpoint potential fishing hotspots where fish might congregate.
Fish Detection: The detailed views provided by side imaging can help in identifying schools of fish or even individual fish near structures or in open water.
Safe Navigation: By providing clear views of the sides of the boat, side imaging can aid in navigation, helping boaters avoid potential hazards like submerged rocks, logs, or other obstacles.
Bottom Hardness Identification: Side imaging can help distinguish between soft and hard bottoms, which can be useful information when looking for certain species of fish that prefer one over the other.
Enhanced Search Operations: For those involved in search and rescue or recovery operations, side imaging can be invaluable in locating submerged objects or even sunken vessels.
Screen Size and Display Resolution
Screen size determines how much data you can view at once, while display resolution affects the clarity and detail of the visuals. Here is what you should consider:
If you plan to use split-screen features (like viewing sonar and GPS simultaneously), a larger screen (9 inches and above) is beneficial.
A higher resolution (at least 800×480 pixels) ensures clearer images, especially important for interpreting detailed sonar returns or intricate maps.
For smaller boats or kayaks, a compact screen (5-7 inches) might be more appropriate.
Touchscreen
Touchscreen interfaces allow users to navigate menus, zoom, and adjust settings more intuitively, similar to smartphones or tablets. Opting for a touchscreen or not depend on various scenarios for example:
If you're constantly changing settings, zooming in on maps, or marking waypoints, a touchscreen can be much more efficient.
If you're fishing in cold conditions and wearing gloves, buttons are easier to operate than a touchscreen.
In rugged fishing scenarios where the device might get bumped or wet frequently, traditional button-operated devices can be more durable.
Boat
Boat type largely dictates the specifications you should prioritize in a fish finder GPS combo. While compactness and portability are essential for smaller boats like kayaks, advanced features, larger screens, and integration capabilities become more relevant as the boat size increases.
Here's a guide based on boat type:
Kayaks
Size and Portability: Compact and portable units work best, as kayaks have limited space.
Mounting Options: Look for units with flexible mounting options or those specifically designed for kayaks.
Sonar Depth: If fishing in shallow waters, high-frequency sonar can provide clearer images.
Small Fishing Boats (e.g., Jon boats, inflatables)
Screen Size: A medium-sized display (5-7 inches) is ideal, offering a balance between visibility and space conservation.
Sonar Capabilities: Traditional sonar combined with down imaging can be sufficient. Side imaging might be beneficial if fishing near structures or in unfamiliar waters.
Mapping Options: Basic GPS with waypoint marking can suffice, but having detailed maps can be advantageous if navigating larger water bodies.
Medium to Large Fishing Boats
Screen Size: Opt for a larger screen (7-12 inches) for better visibility and split-screen functionalities.
Sonar Capabilities: CHIRP sonar, side imaging, and down imaging become more relevant to cover a wider area beneath and around the boat.
Mapping Options: Advanced mapping solutions with detailed charts are beneficial. Compatibility with premium charts like LakeMaster, Navionics, or BlueChart can be a boon.
Networking Capabilities: Look for units that can network with other devices on the boat, like radar systems, additional fish finders, or marine radios.
Saltwater Fishing
Saltwater fishing presents unique challenges due to the vastness of the environment, varying depths, and the presence of corrosive saltwater. When choosing a GPS fish finder for saltwater fishing, consider the following factors:
Durability and Water Resistance: Saltwater can be corrosive. Ensure the unit is designed for saltwater use and has a high water resistance rating, typically IPX7 or higher, to withstand splashes and brief immersions.
Sonar Depth and Frequency:

Deep Water Penetration: Saltwater fishing often involves deeper waters, so opt for a unit that offers lower frequency sonar (around 50kHz) to penetrate greater depths.
CHIRP Sonar: CHIRP technology, which emits a range of frequencies, can be particularly useful in saltwater, providing clearer target separation and depth penetration.

Mapping and Chartplotting:

Detailed Coastal Charts: Ensure the device comes with detailed coastal charts that highlight depth contours, shipwrecks, reefs, and other significant underwater structures.
Waypoint Storage: Saltwater regions are vast, so having a device that can store numerous waypoints will help you mark and return to productive fishing spots or navigate safely.
Tidal and Current Information: Some advanced units offer tidal data and current predictions, which are crucial for saltwater fishing.

Networking Capabilities: If you have other instruments on board, like radar, AIS, or additional displays, it's beneficial to have a fish finder that can network with these devices.
Screen Size and Resolution: Given the vastness of the ocean and the need to interpret data from deeper waters, a larger screen with high resolution can provide clearer visuals and make it easier to interpret data.
GPS Accuracy and Refresh Rate: A fast and accurate GPS is essential in the vast ocean to ensure precise navigation. Look for units with a high refresh rate and WAAS (Wide Area Augmentation System) or similar systems for enhanced accuracy.
Side and Down Imaging: While traditional sonar is essential, having side and down imaging can provide a clearer picture of the sea floor, helping identify structures where fish might congregate.
Power and Battery Life: Given that saltwater trips can often last longer, ensure the fish finder has a strong battery life or can be easily connected to the boat's power source.
Ease of Use: Saltwater conditions can change rapidly. A device that's easy to use, with intuitive menus and perhaps touchscreen capabilities, can be beneficial when conditions are challenging.
Transducer: The transducer is the component that sends and receives sonar waves. Ensure it's designed for saltwater use, can handle the depths you're targeting, and is appropriately mounted to handle ocean conditions.