Best Fish Finder offers clear underwater imaging, reliable depth readings, and a user-friendly interface. It provides anglers with detailed sonar images that help in locating fish, understanding underwater topography, and improving fishing success.
There's a wide variety of fish finders available in the market, both price-wise and feature-wise. They range from basic models that simply show fish arches and depth readings to advanced units with features like CHIRP sonar, side and down imaging, GPS mapping, and even live sonar views. The price can vary from under $100 for basic models to $1000 dollars plus for high-end units.
Choosing the right fish finder can be challenging given the wide variety of options available. To make selection easier, we have selected and reviewed the top models in the market for each type of budget, feature, and boat.
Here is a quick overview of the best fish finders of 2023:
Best Fish Finder for the Money: Humminbird HELIX 7 CHIRP MEGA SI GPS G4
Best Entry-Level Fish Finder: Garmin Striker 4 with CHIRP Sonar and GPS
Best Portable Fish Finder: Deeper PRO+ With GPS
Best Small Boat Fish Finder: Lowrance Hook Reveal 5 SplitShot
Best Kayak Fish Finder: Humminbird Helix 7 CHIRP SI GPS G4
Best Down Imaging Fish Finder: HELIX 8 CHIRP MEGA DI GPS G4N
Best Side Imaging Fish Finder: Humminbird Helix 9 Mega SI GPS G4N
Best Live View Fish Finder: Garmin ECHOMAP UHD 93SV with Livescope
Best GPS Fish Finder: Garmin GPSMAP 943XSV
Best Ice Fishing Fish Finder: Humminbird Ice Helix 7 CHIRP GPS
Our comprehensive buying guide, at the end, will help beginners understand the key features of the fish finders. This includes details on sonar types (CHIRP, side imaging, down imaging), screen resolution, screen size, GPS capabilities, and portability. By understanding what each feature offers and aligning that with your budget, and the kind of boat you have, you can choose the fish finder that is best for your fishing needs.
Best Fish Finders 2023 – Review
Best Fish Finder for the Money: Humminbird HELIX 7 CHIRP MEGA SI GPS G4
Humminbird's Helix 7 CHIRP MEGA SI is the best fish finder for the money because it packs numerous high-end features at a relatively moderate price in the $700 range. These features include Mega Side Imaging, Mega Down Imaging, Dual Spectrum CHIRP sonar, and an internal GPS with Humminbird Basemap.
The Mega Side Imaging and Mega Down Imaging, using a high-frequency transducer of 1.2 MHz, produce high-resolution sonar images. This helps to identify underwater structures and even individual fish with high accuracy.
In comparison, other fish finder models in the same price range offer side imaging at a lower frequency range, which limits the level of accuracy and detail they can provide.
The Dual Spectrum CHIRP Sonar is another feature that elevates the Helix 7 above its peers. The Dual Spectrum feature offers two modes: Wide Mode for scanning large areas and Narrow Mode for focusing on fine details like identifying fish-holding structures, bottom compositions, and fish in cover.
Navigational capability is another area where the Helix 7 shines. The internal GPS, coupled with preloaded Humminbird basemap, offers a detailed view of underwater topography and various points of interest.
The AutoChart Live feature allows you to create real-time maps of their fishing spots, mapping depth contours, bottom hardness, and vegetation as they navigate.
Pros:
Reasonably priced given the features
Easy to read, bright screen with high-resolution display
High-quality imaging for detailed underwater views
Shallow and deep waters scanning capability.
Mapping and GPS
Suitable for different types of boats
Cons:
Might be considered expensive for casual or beginner anglers
Best Entry-Level Fish Finder: Garmin Striker 4 with CHIRP Sonar and GPS
Garmin's Striker 4 is designed with simplicity and ease-of-use in mind, making it an excellent choice for beginners who want a hassle-free fish finding experience.
Striker 4 comes with a straightforward keypad operation. The menus are intuitive, making it easy for someone who is new to fish finders to navigate through the options smoothly.
While it has a smaller 3.5-inch screen compared to some high-end models, the display is color and easy to read. The simplicity of the screen layout can actually be beneficial for beginners who might find too much information on large screens overwhelming.
When it comes to sonar capability, the fish finder includes a Garmin CHIRP (77/200 kHz) transducer that offers visibly higher clarity and detail for spotting fish and underwater structures compared to traditional sonar. CHIRP technology allows for crisper fish arches and greater target separation.
For boaters, the built-in, high-sensitivity GPS is invaluable. It allows you to mark waypoints and navigate easily. The waypoints can guide you to locations like brush piles, stumps, and docks, and also help you find your way back to the boat ramp.
Priced at $130, the Garmin Striker 4 offers excellent value for money. Its affordability makes it one of the best budget-friendly fish finders on the market, especially given its features like CHIRP sonar, built-in GPS, and various other functionalities usually found in more expensive models.
Pros:
Cheap
Easy to use
CHIRP sonar technology for better fish and structure visibility
GPS for navigation and marking waypoints
Easy to install
Cons:
Small screen size
No mapping option
No down imaging and side imaging
Best Portable Fish Finder: Deeper PRO+ With Wifi and GPS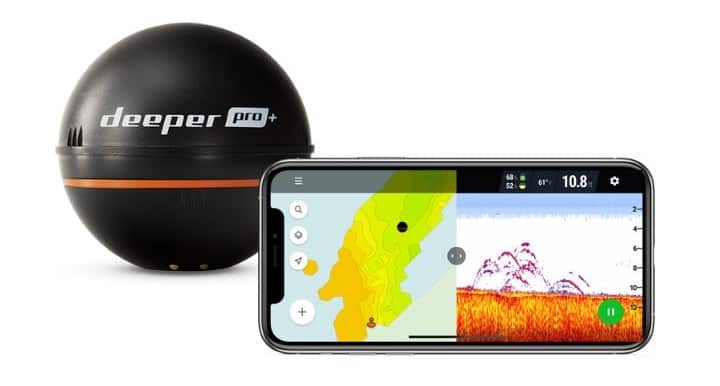 The Deeper Pro+ is a castable, portable fish finder that can be used in a variety of fishing environments, from shore fishing to kayak fishing and even ice fishing. It connects to your smartphone or tablet using Wi-Fi, turning your device into a sonar display.
It is one of the smallest and lightest fish finders available, making it extremely easy to carry along on any fishing trip. And unlike bluetooth based portable fish finders, the Wi-Fi connectivity ensures faster data transfer and real-time updates, which is crucial for tracking fish movements.
Now, when it comes to actually finding fish, the Deeper Pro+ offers several advanced features. Its dual-beam sonar can scan up to 260 feet deep, providing a broad and detailed view of underwater structures, temperature, and fish locations.
Its built-in GPS and mapping capabilities further add to its utility. You can create bathymetric maps of the fishing area, mark hotspots, and plan your fishing strategy accordingly. The Fish Deeper app allows you to store and analyze this data, turning your smartphone into a comprehensive fishing diary.
Deeper Pro+ is a great choice for the anglers who don't want to invest in or install a full-fledged, boat-mounted fish finder. Priced at just $180, it is the best fish finder on a $200 budget.
Pros:
Portable
Wireless Connectivity
Integrated GPS
Long casting range of 330 feet (100 m)
Good for fishing lakes and rivers, can scan upto 260 feet (80 m) deep
Cons:
Not suitable for deep waters
No high-resolution imaging
Dependency on Smartphone/Tablet
Best Small Boat Fish Finder: Lowrance Hook Reveal 5 Splitshot
The Lowrance's Hook Reveal 5 Splitshot is an ideal fish finder for small boats due to its compact design and advanced features tailored to enhance the fishing experience.
Starting with the 5-inch screen, it's an ideal size for small boats where space is at a premium. It's large enough to clearly display all the crucial sonar and mapping data you'll need but compact enough to fit comfortably in a limited space.
Autotuning Sonar is another feature that shines in the small boat context. Smaller boats are more affected by water turbulence, boat speed, and changing conditions, making manual sonar adjustments cumbersome. The Autotuning feature automatically adjusts the sonar settings in real time, allowing you to focus on fishing rather than fiddling with equipment settings.
Another key feature is the FishReveal technology, which combines the CHIRP sonar and DownScan Imaging on a single screen. You get the highly detailed structural view from DownScan, but any fish that are present are highlighted by the CHIRP sonar data. This is highly useful in smaller boats where you have space for one display unit. Instead of toggling between different screens or squinting at a split-screen display, you get all the information you need in one glance.
Hook Reveal 5 is designed to be durable and withstand the rough conditions that can occur in small boating scenarios. Its simplified menu and user-friendly interface make it easy to operate, even in a cramped space or during choppy water conditions.
Pros:
Compact design
SolarMAX display offers bright screen and wide viewing angles
Auto-Tuning Sonar
FishReveal Technology
High CHIRP Sonar (200 kHz) and DownScan imaging (455/800 kHz)
GPS with mapping options
Genesis Live for custom map creation
Durable
Cons:
No side-imaging
Not suitable for deep waters
Best Kayak Fish Finder: Humminbird Helix 7 CHIRP SI GPS G4
Humminbird's Helix 7 CHIRP SI is the best fish finder for kayaks in the $500 budget range. It provides Side Imaging, Down Imaging, and Dual Spectrum CHIRP Sonar, offering a comprehensive view of the underwater environment.
One of the main advantages of the Helix 7 CHIRP SI is its transducer size. The transducer is small compared to other side imaging fish finders in the market. Smaller transducers can easily fit into scupper holes that are commonly found in fishing kayaks. This allows for a cleaner and more secure installation without the need for additional mounting hardware or modifications to the kayak.
Side imaging on the Helix 7 CHIRP SI operates at 455 kHz which is sufficient for most freshwater kayak fishing applications. Higher frequency models might offer finer details but could be more expensive and come with larger transducers.
Side imaging is particularly advantageous when fishing from a kayak. It allows you to scan large areas quickly, helping you identify fish-holding structures and even the fish themselves with greater ease.
The 7-inch screen of Helix 7 CHIRP SI is a bit on the larger side for the kayak but it offers some notable advantages. The larger screen makes it easier to see sonar details and is particularly beneficial if you're using split-screen views to display multiple types of information simultaneously, such as sonar and GPS maps. Of course, the downside is that it takes up more space, but many kayak anglers find that the benefits in terms of visibility and functionality outweigh the drawbacks.
Pros:
Ideal for a $500 budget
Side Imaging, Down Imaging, and Dual Spectrum CHIRP Sonar for a detailed underwater view.
Small transducer easier to install on a kayak
High-Definition 7-inch display screen
Built-in GPS and Mapping
AutoChart Live to map unchartered waters.
User-friendly keypad interface
Cons:
Limited frequency for Side Imaging.
Advanced features and a larger screen might consume more battery, which can be a concern for long kayak trips.
Best Side Imaging Fish Finder: Humminbird Helix 9 Mega SI+ GPS G4N
The Humminbird's Helix 9 MEGA SI+ stands out from other side imaging fish finders due to its high-frequency MEGA Side Imaging technology. It can scan up to 200 feet on either side of your boat and provide highly detailed, almost photographic underwater view.
The precision of Helix 9's MEGA Side Imaging is remarkable. Anglers have reported being able to see panfish beds in as little as 3 feet of water. This kind of detail is not only useful for targeting panfish but also for locating predator fish like largemouth bass that may be feeding in those areas.
Another impressive feature is its performance in finding difficult fishing spots. Whether it's deep drop-offs, boulder fields, or dense timber stands, this fish finder rises to the challenge, offering clear and distinct images.
Perhaps one of the most revolutionary aspects is species differentiation. In the right conditions, the Side Imaging feature of Helix 9 allows you to clearly distinguish between species like largemouth and carp or crappie and catfish. This enables targeted fishing, eliminating the time wasted on catching the wrong species.
That said, being a high-end model, the Helix 9 MEGA SI+ comes at a premium $1500 price range. For professional or serious recreational anglers with larger boats, the device offers features that can significantly enhance the fishing experience, making it a worthy investment.
Pros:
High frequency side imaging
Highly detailed underwater imaging around and below the boat
Large screen
Mega Down Imaging and Dual Spectrum CHIRP Sonar
In-built GPS and premium maps compatibility
Ideal for large boats and professional anglers
Networking capabilities
Cons:
Best Down Imaging Fish Finder: HELIX 8 CHIRP MEGA DI GPS G4N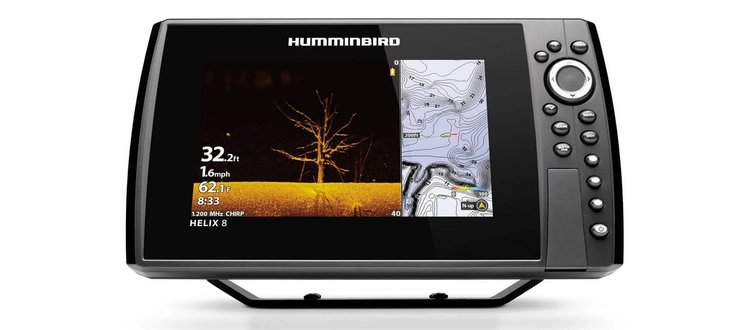 HELIX 8 CHIRP MEGA DI GPS G4N is an excellent choice for those specifically looking for a fish finder with superior down imaging. Priced at around $750, it is certainly an investment, but its features justify the cost, especially if you're an avid angler or professional who requires high-definition down imaging for specific fishing conditions.
The HELIX 8 provides MEGA Down Imaging that operates in the MHz frequency range, offering exceptional clarity and detail up to 125 feet below your boat. This high level of detail can be a game-changer in situations where traditional sonar struggles, such as identifying closely-packed schools of fish near the bottom or distinguishing gamefish within large schools of baitfish.
Additionally, the 8-inch screen provides a large display to clearly see the highly detailed images. It allows for better split-screen views, where you can simultaneously look at CHIRP sonar, Down Imaging, and GPS maps. The larger screen size can display more information and offer better readability, particularly when you're trying to interpret complex underwater structures or identify fish.
The unit's networking capabilities are another strong point. Ethernet networking allows for the integration of multiple units, and compatibility with Minn Kota and Cannon products through the One-Boat Network adds boat control and additional fish-catching features.
Pros:
High frequency Down Imaging at 1175 kHz (1.175 MHz)
Dual spectrum CHIRP sonar
Multiple frequency support for down imaging and CHIRP sonar
Down imaging can scan upto 350 feet at 455 kHz and 125 feet at MEGA DI frequencies
8-inch High-Definition Display
Built-in GPS and Mapping
Networking capabilities
Cons:
Expensive for beginners and recreational anglers
The 125 feet depth limitation for MEGA Down Imaging may not be sufficient for some deep-water fishing applications.
Take up more space on small boats or kayaks
Best Live View Fish Finder: Garmin Livescope with ECHOMAP UHD 93SV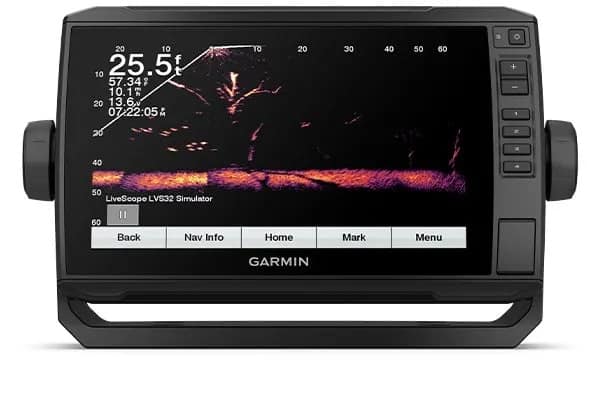 Garmin Livescope is widely considered one of the best live view fish finders on the market, particularly for its real-time capabilities. This is a game-changer for anglers who want to know exactly what's happening around their boat at any given moment. Whether it's a fish swimming by or a pod of baitfish, Livescope lets you see it in real-time.
The technology is also versatile, allowing for 360-degree scanning when the transducer is mounted on a pole or a trolling motor. Unlike traditional fish finders that require the boat to be moving to generate accurate data, Livescope works even when the boat is stationary. This is highly beneficial for anglers who want to fish specific structures like rock piles without disturbing the fish by constantly moving.
One of the most exciting features of Livescope is the ability to watch your bait or lure in real-time. This level of detail is unprecedented in fish finders and offers an entirely new dimension to fishing. You can see how fish react to your bait and make adjustments accordingly, an invaluable advantage in any fishing scenario.
As for its effectiveness in bass fishing, Livescope is a favorite among professional bass tournament anglers. Its capabilities are particularly useful in open water environments and for investigating structures like boat houses, bluff walls, and submerged points.
Regarding compatibility, the Garmin ECHOMAP UHD 93sv is a good match for Livescope. It's the least expensive display unit that's compatible with Livescope and comes with a 9-inch touchscreen. If you're on a budget but still want to take advantage of Livescope's capabilities, the ECHOMAP UHD 93sv is a solid choice.
Pros:
Live sonar Imaging
Wide coverage of 200 feet in any direction
Detailed Imaging
Ideal for tournament anglers
Cons:
Expensive
Installation requires expertise and additional equipment depending on the boat
Best GPS Fish Finder: Garmin GPSMAP 943XSV
Garmin's GPSMAP 943xsv is a powerful fish finder with GPS capabilities. The combination of detailed mapping, advanced sonar technology, and user-friendly features makes it a standout choice for those who want the best in navigation and fish-finding capabilities.
The preloaded Navionics+ charts offer detailed maps of U.S. coastal and inland regions, ensuring you're well-guided whether you're offshore or in a freshwater lake. This is further enhanced by the Auto Guidance+ technology, which offers boaters suggested routes, streamlining navigation through channels, inlets, and even marina entrances.
Here are a host of other GPS and Mapping features in GPSMAP 943XSV:
Depth Range Shading for color-coding up to ten depth ranges, ensuring anglers can target specific depths.
Detailed underwater contours up to 1-foot intervals, highlighting potential fish habitats like channels and drop-offs.
For safety, Shallow Water Shading alerts boaters to hazardous zones in unfamiliar waters.
Daily Chart Updates – users always have updated map data
Raster Cartography feature replicates traditional paper charts digitally, aiding those accustomed to such maps.
When it comes to fishing, the unit's ultra-high-definition scanning sonar provides detailed images of fish and structure. The clear, high-contrast color palettes of the SideVu and ClearVu scanning sonars make it easy to distinguish fish from structures, giving anglers an edge. Additionally, the support for 1 kW CHIRP traditional sonar enhances fish detection capabilities.
Pros:
Advanced GPS
Comprehensive coastal and inland maps.
Suggested routes for easier navigation.
Vivid imagery distinguishing fish from structures.
Panoptix Sonar Support
Large 9" touchscreen
Networking capabilities
Cons:
Best Ice Fishing Fish Finder: Humminbird Ice Helix 7 CHIRP GPS
Humminbird's Ice Helix 7 is the most popular ice fishing fish finder. What sets it apart is its design, tailored from the ground up specifically for ice fishing.
The AutoChart Live ICE feature provides real-time mapping capabilities tailored for ice fishing environments, allowing anglers to create custom maps of fishing spots. It lets anglers see depth contours, bottom hardness, and vegetation—key features that can help pinpoint the best fishing locations.
Another feature is the Jig Charge Mode that let ice anglers quickly charge glow-painted lures. It's a small but incredibly useful feature for those who know the benefits of using glow lures under the ice.
Furthermore, the Dual Spectrum CHIRP Sonar offers clarity and precision with its 3/4″ target separation. This ensures that even in icy waters, you'll get a crystal-clear view of fish, lures, and structures beneath the ice.
One of the challenges with ice fishing is that many anglers might be fishing in close proximity, leading to interference from multiple sonar devices. The CHIRP Interference Rejection feature ensures that the readings remain clear and interference-free.
Additionally, the built-in GPS along with Humminbird Basemap helps the anglers to always know their location and mark productive fishing spots. The compatibility with LakeMaster or Navionics maps gives an added advantage of accessing detailed maps.
While the Ice Helix 7 is optimized for ice fishing, it's versatile enough to be used during other seasons as well. It's an all-season pack that's valuable both on ice and open water, ensuring you get value for your money throughout the year.
Pros:
Bright 7″ full color LCD display
Tailored for Ice fishing
Dual Spectrum CHIRP Sonar
Built-in GPS with Humminbird Basemap
All-season pack
Cons:
No side imaging and down imaging
Slightly bulkier to carry around
Buying Guide: How to Choose Best Fish Finder
Choosing a fish finder depends on your budget, fishing location, boat, and a host of other factors. We will break down in detail all of these decision factors.
Before that, here is a simple step-by-step process on how to select the right fish finder for your needs:
Determine your budget range.
Assess the type of waters you'll be fishing in to decide on the sonar frequency.
Decide on the imaging types you need (CHIRP, Side, Down, Live View).
Determine if GPS and mapping features are essential for your fishing locations.
Choose a screen size based on your preference for detail vs. portability.
Decide if you need a portable model.
Finally, consider your boat type to ensure compatibility and ease of installation.
Budget Range
Budget range dictates the kind of fish finder you can afford and its accompanying features. Fish finders come in a wide range of prices, from under $100 to $1000 dollars plus, depending on sonar type, screen size, mapping features, etc.
Here's an overview of the typical price range and the features you can find in it:
Under $200
Basic Sonar: Primarily offers traditional 2D sonar. Models close to the $200 range offer CHIRP sonar.
Smaller Screens: These units typically have smaller screens, often less than 5 inches.
Monochrome or Basic Color Displays: Higher-end models in this range offer color screen.
Limited or No GPS: Offers basic GPS functionalities without mapping.
Portability: Many fish finders in this range are portable, suitable for small boats or kayaks.
No Advanced Imaging: Side or down imaging is not available in this price range.
Under $500
High-Frequency Sonar: Better sonar capabilities, including CHIRP and Down Imaging.
Medium-sized Screens: Generally, 5 to 7-inch screens with better resolutions.
Color Displays: Almost all models will have color screens.
Basic GPS and Mapping: Most will have GPS functionalities and may come with basic maps or custom mapping solutions.
Down Imaging: Many models will offer down imaging for a more detailed look under the boat.
No Side Imaging: Side Imaging is a rarity in this price range.
Under $1000
Advanced Sonar Capabilities: Consistent CHIRP sonar, and both side and down imaging.
Larger Screens: 7 to 9-inch screens with high resolutions are common.
Advanced GPS and Mapping: Better mapping solutions, often with the capability to add or purchase more detailed maps.
Networking Capabilities: Some models allow for networking with other units or sharing data.
Touchscreen Interfaces: Some higher-end models offer touchscreen functionality.
$1000 and above
Top-of-the-line Sonar: Best CHIRP capabilities with ultra-clear imaging.
Largest Screens: 9 inches and above, with the highest resolutions and often touchscreen capabilities.
Detailed Mapping and GPS: Advanced GPS with detailed, often customizable maps.
Networking and Connectivity: Advanced networking capabilities, including Bluetooth and WiFi in some models.
Live View Sonar: Many models will offer live view sonars for real-time viewing.
Integration: Can be integrated with other boat systems, like autopilots or radar.
Sonar Frequency
Sonar frequency refers to the number of sound waves, or "pings", that a fish finder transducer transmits into the water per second. It's measured in kilohertz (kHz), and a transducer can operate at various frequencies depending on its design and purpose.
The sonar frequency determines how much detail can be seen and how deep the sonar can penetrate. Typically, high-frequency sonar provides detailed images but doesn't penetrate as deep, whereas low-frequency sonar penetrate deeper but offer less detail.
When it comes to choosing the right sonar frequency for a fish finder, it's a matter of matching the frequency to your specific fishing environment and goals:
High Frequencies (e.g., 200kHz, 455kHz, and above): These are best suited for fishing in shallow waters. High-frequency sonar provides a more detailed underwater view, making it easier to differentiate between individual fish, bait schools, and underwater structures. It's ideal for anglers who fish in lakes, rivers, and other freshwater environments where detail is more critical than depth.
Low Frequencies (e.g., 50kHz or 83kHz): These frequencies are optimal for deep-sea fishing or any scenario where you need to scan deeper beneath the water's surface. They penetrate further down but produce less detailed images compared to high frequencies. Therefore, if you're heading offshore or into deep freshwater lakes, a lower frequency might be more suitable.
CHIRP Sonar
CHIRP stands for Compressed High-Intensity Radiated Pulse. Unlike traditional sonar which sends a single frequency pulse at a time, CHIRP sends a continuous sweep of frequencies ranging from low to high. This range of frequencies provides a broader spectrum of information.
CHIRP provides more detailed and clearer images with better target separation, allowing anglers to differentiate between individual fish, bait schools, and underwater structures. It also reduces "clutter" and offers better depth penetration.
While many fish finder models excel in CHIRP technology, we recommend the Garmin Striker 4 CHIRP GPS fish finder for beginners because of its low-price and ease of use.
Side Imaging
Side Imaging (SI) is an advanced sonar technology that offers a visual representation of the underwater environment on either side of a boat. Unlike traditional sonar that looks directly below the boat, Side Imaging scans the area to the sides of the boat using a high frequency sonar beam.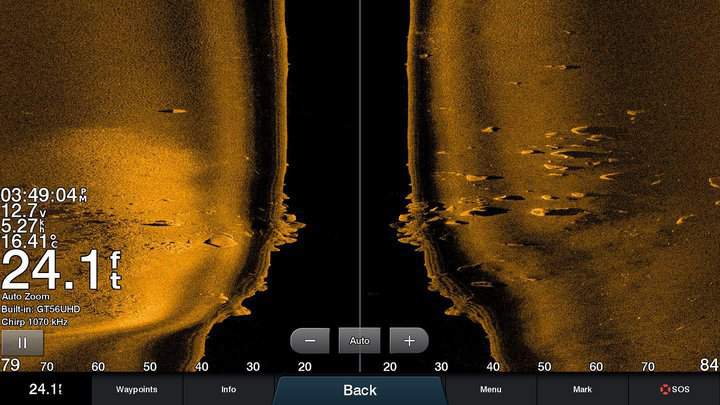 Side Imaging offers high-resolution images, allowing for a clear view of underwater structures, fish, and other objects. This makes it easier for anglers to identify prime fishing spots.
It can cover a wide area, often up to several hundred feet to either side of the boat. This means anglers can scan large areas quickly.
When it comes to choosing a side imaging fish finder, we recommend Humminbird Helix 9 Mega SI+ as it offers the best side imaging in the $1500 price range.
Down Imaging
Down Imaging (DI) is another advanced sonar technology, akin to Side Imaging, but as the name suggests, it's focused on providing detailed underwater images directly beneath the boat. Down Imaging uses high frequency sonar to produce detailed, almost photographic images of the underwater environment.
The images from DI are more refined and clear than those from traditional 2D sonar, allowing anglers to easily distinguish between fish, submerged trees, rocks, and other underwater features.
If you are looking for a high-quality fish finder with down imaging, the HELIX 8 CHIRP MEGA DI is the best option in the $1000 price range.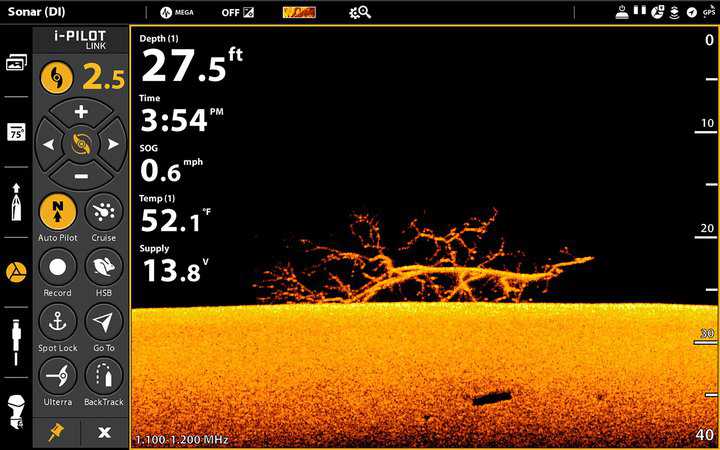 Live View Sonar
Live view sonar, often referred to as "real-time sonar" or "live sonar," represents a significant advancement in fish-finding technology. Unlike traditional sonar that provides images with a slight delay (as it processes returned signals), live view sonar displays underwater activity in real-time, allowing anglers to see fish movements and responses to their lures instantly.
Anglers can watch fish react to their bait or lure in real-time, allowing them to adjust their techniques on the fly. Many live sonar systems offer high-resolution imaging, making it easier to distinguish between individual fish, bait, and structures.
Garmin's Panoptix was one of the first to offer real-time sonar views. The LiveScope variant provides even higher resolution images and has become a popular live view fish finder among professional and recreational anglers alike.
GPS and Maps
GPS and maps in a fish finder offer a combination of navigation and location-tracking features that significantly enhance the fishing experience. Integrated GPS ensures that you can easily find your way to productive fishing spots and safely navigate back to your starting point, even in unfamiliar waters.
Premium fish finders offer detailed bathymetric charts, contour lines, points of interest, and sometimes even satellite imagery. Their interfaces are generally more user-friendly, intuitive, and customizable.
Whereas, basic models might offer rudimentary mapping without detailed contours or only a basic GPS for marking waypoints.
If you're a casual angler who fishes familiar waters and needs a basic device to mark favorite spots, a fish finder with basic GPS would suffice.
If you're an avid angler, a professional, or someone who frequently explores unfamiliar waters, investing in a high-end GPS fish finder with advanced mapping features would be beneficial. We recommend Garmin GPSMAP 943XSV as the top fish finder GPS combo that offers host of features in $1500 budget range.
Screen Size
Screen size is one of the most noticeable features of a fish finder and can significantly influence its price, display resolution, and the overall fishing experience.
Generally, as the screen size increases, so does the cost. Larger screens require more materials and often come packed with higher-end features. A fish finder with a 3-inch screen is typically going to be less expensive than one with a 12-inch screen from the same brand and series.
Here's a breakdown of different screen sizes in a fish finder and the features:
Smaller Screens (3 to 5 inches): At this size, you're likely to encounter lower resolutions. While these screens can display essential sonar returns, finer details may be challenging to discern, especially when using features like side or down imaging.
But, these are lightweight, portable, and great for small boats or kayaks where space might be limited.
Medium Screens (6 to 9 inches): These screens often come with higher resolutions, offering clearer and more detailed images. You'll be able to make out structures, fish arches, and other underwater features more easily.
Medium screens are versatile and suitable for a wide range of boats, from kayaks to medium-sized boats.
Larger Screens (10 inches and above): Typically, the largest screens offer the highest resolutions, ensuring the crispest and most detailed images. They can also accommodate split-screen modes without compromising readability, allowing anglers to view multiple types of data simultaneously. These are preferred by professional anglers or those on larger boats.
Portable
A portable fish finder is a device designed to identify fish and underwater structures, much like a traditional fish finder, but with the added advantage of being easily transportable and not requiring permanent installation. Many come as complete kits with a head unit, transducer, carrying case, and power source. Certain portable fish finders come with castable transducers that can be attached directly to a fishing line.
Portable fish finders are suitable for various fishing environments, from boats to ice fishing to shore fishing. They offer flexibility and convenience for anglers who don't want to commit to a fixed installation or who fish in various environments.
Should You Buy One?
The decision to purchase a portable fish finder depends on your specific fishing habits and needs:
If you frequently change fishing locations, boats, or prefer the flexibility of using the device in various scenarios, a portable fish finder is an excellent choice.
If you're a casual angler or someone who occasionally rents boats, a portable model offers the convenience of having your fish-finding tool without permanent installation.
On the other hand, if you have a dedicated fishing boat and require advanced features, a more extensive, fixed installation might be more suitable.
We recommend Deeper Pro+ as the top-notch portable fish finder that offers a blend of functionality and convenience. It's especially suitable for anglers who want detailed information about their fishing spots and appreciate the integration with their smartphone.
What is the best fish finder for a boat
The best fish finder for a boat depends on the type of boat you have. Different boats have varying needs and spaces available for mounting and using a fish finder. Here is a breakdown of the recommended fish finder for different types of boats:
Small Boats (e.g., Jon Boats, Inflatables): Due to space constraints, a compact fish finder with a screen size of around 4 to 5 inches is suitable. The Lowrance Hook Reveal 5 or Garmin Striker Vivid 4 are our recommended fish finders for small boats.
Kayaks: Portability and battery life are crucial. A small to medium-sized unit, preferably with a portable kit, works best. The Humminbird HELIX 7 or Deeper Pro+ are the top kayak fish finders.
Bass Boats: Given the emphasis on fishing, a medium to large-sized fish finder with advanced features like CHIRP sonar, side imaging, and GPS is ideal. The Humminbird HELIX 7 or Garmin Livescope are excellent options.
Offshore or Deep Sea Fishing Boats: Here, depth capability and GPS features are vital. Large screens and high-power sonar systems, such as the Garmin GPSMAP 943xsv or Simrad GO12 XSE, are recommended.
Pontoon Boats: A medium-sized fish finder with a clear display and good sonar capabilities, such as the Lowrance Elite FS, is ideal given the recreational nature of these boats.
Cabin Cruisers or Larger Yachts: On larger vessels, a more sophisticated system with a larger display, network capabilities, and integration with other onboard systems is preferable. The Humminbird Solix or Garmin GPSMAP 1242xsv are top contenders.
Best Fish Finder Brands
Here's a brief overview of most recognized fish finder brands in the industry:
Humminbird: Established in 1971, Humminbird has been a pioneer in fish finders, especially with innovations like side imaging and 360-imaging technologies. Humminbird fish finders come in a variety of models catering to both recreational anglers and professionals.
Garmin: While Garmin is a well-known name in the GPS industry, they've also made significant inroads in the marine electronics market. Garmin fish finders, especially the Striker and ECHOMAP series, are popular for their reliability and advanced features.
Lowrance: A brand with a long history, Lowrance introduced the first portable sonar unit in 1959. Lowrance fish finders are the favorite among anglers especially their HOOK and Elite series offering a blend of performance and value.
Raymarine: A part of the FLIR Systems company, Raymarine is renowned for high-quality marine electronics. Their Dragonfly series, with CHIRP DownVision, has gained popularity among anglers.
Simrad: Known for professional-grade marine electronics, Simrad fish finders offer advanced features and high-quality displays. Their GO and NSS EVO series cater to both recreational and professional users.
Furuno: With a reputation for durability and precision, Furuno is a preferred brand among commercial fishermen. Furuno fish finders are known for deep-water performance and accuracy.