Lowrance, a leading brand in marine electronics, offers a diverse range of fish finders suitable for various fishing needs. Their product line includes advanced models with high-resolution screens, detailed mapping, and powerful sonar capabilities, as well as more basic, budget-friendly options.
Here is a quick look at the best Lowrance Fish Finders:
Lowrance HDS Pro
Lowrance Elite FS
Lowrance Hook Reveal TripleShot
Lowrance Hook Reveal SplitShot
Lowrance Hook2 4x
Lowrance Fish Hunter 3D
When choosing a Lowrance fish finder, consider your fishing environment (shallow vs. deep waters), the type of boat or kayak you use, your preference for display size and resolution, as well as your budget. Additionally, think about the importance of features like GPS, mapping, and advanced sonar technologies, such as SideScan or DownScan. Balancing these factors will help you find the Lowrance model that best fits your angling needs.
Best Lowrance Fish Finders 2023 – Review
Lowrance HDS Pro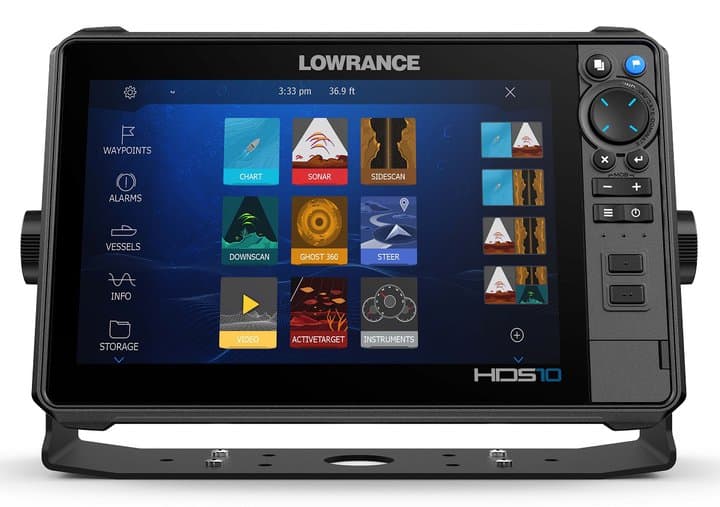 Lowrance's HDS Pro, an upgrade from the HDS Live, encapsulates a slew of features designed to enhance the fishing experience. Here's a breakdown of its key features:
Display: The HDS Pro comes in various display sizes including 9-inch, 10-inch, 12-inch, and 16-inch. It features a SolarMAX IPS HD Display that's viewable at extreme angles and through polarized lenses, ensuring clear visibility under different lighting conditions​
Sonar: It boasts ActiveTarget 2 Live Sonar and Active Imaging HD technologies. These provide high-resolution, real-time imagery of fish movement and underwater structures, significantly improving your ability to locate fish. The sonar technologies include Lowrance CHIRP, SideScan, and DownScan Imaging​​.
GPS and Mapping: The HDS Pro is equipped with C-MAP Genesis Live for real-time mapping, aiding in navigation and finding the best fishing spots. This feature helps in creating custom contour maps of your local fishing spots​.
The advanced features and comprehensive control system of the HDS Pro make it suitable for serious or professional anglers who are keen on leveraging technology to enhance their fishing excursions.
It's also suited for larger boats given its ability to provide bow-to-stern control covering various boat systems like Power-Poles, autopilots, engines, radar, and more. This centralized control can be a significant advantage on larger vessels where managing various systems efficiently is crucial​.
Lowrance Elite FS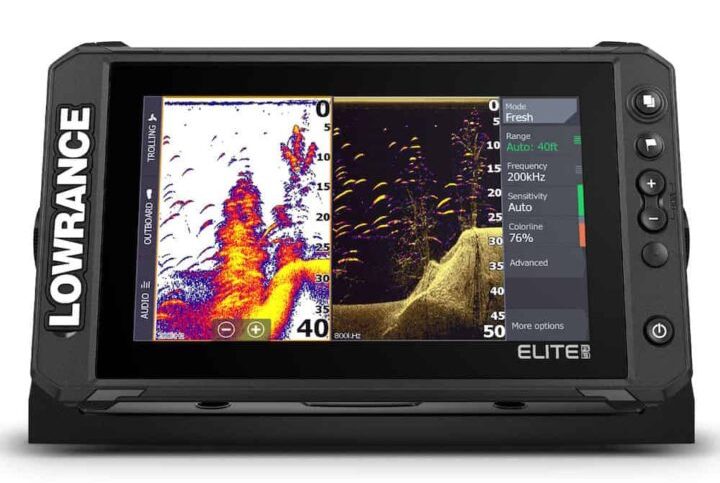 The Lowrance Elite FS series, available in 7-inch and 9-inch screen sizes, is a line of fish finders that combines some of the best features from Lowrance's premium models but at a more accessible price point. Let's delve into its key features:
High Resolution Display: The Elite FS series offers high-resolution SolarMAX displays that are sunlight-readable, ensuring clear visibility in bright conditions.
Touchscreen Interface: Touchscreen is combined with keypad functionality, offering a blend of quick access and detailed menu navigation.
Active Imaging 3-in-1 Transducer: The transducer offers CHIRP sonar, SideScan, and DownScan Imaging, giving a comprehensive view of the underwater environment. It provides detailed images of fish and structures.
FishReveal: An innovative feature that overlays CHIRP sonar fish arches on DownScan Imaging, offering the best of both views.
Support for ActiveTarget Live Sonar: Some models or setups allow for compatibility with ActiveTarget Live Sonar, offering real-time views of fish movements.
High-precision GPS antenna: Ensures accurate navigation and waypoint marking.
C-MAP Contour+ Maps: These are preloaded and offer highly detailed mapping with 1-foot contours for more than 8,000 U.S. lakes.
Networking: This lets anglers share data across multiple units.
Given its range of features, the Lowrance Elite FS is suitable for both recreational anglers and those who take fishing more seriously. Its advanced sonar capabilities cater to anglers looking for detailed underwater views, while its user-friendly interface appeals to those new to using fish finders.
The Elite FS series is versatile and can be used on a variety of boats, from smaller freshwater vessels to larger offshore boats. Its networking capabilities make it suitable for boats where multiple displays might be beneficial, while its compact design ensures it won't be out of place on small boats.
Lowrance Hook Reveal TripleShot
The Lowrance HOOK Reveal TripleShot is part of Lowrance's HOOK series, which is designed to provide essential features for anglers at a more budget-friendly price point.
Here's a detailed look at its features:
Display: The Hook Reveal TripleShot is available in multiple screen sizes to cater to various needs and preferences. Typically, you can find it in 7-inch, and 9-inch screen sizes. The displays are SolarMAX screens that offer clarity and high-resolution views in sunlight.
TripleShot Transducer: The TripleShot provides traditional high CHIRP wide-angle sonar, plus side and down scan imaging.
FishReveal: This feature combines the benefits of Lowrance CHIRP sonar and DownScan Imaging™ on one screen. It makes fish easier to see on DownScan Imaging by using the CHIRP sonar fish arch.
Autotuning Sonar: This feature automatically adjusts sonar settings as fishing conditions change. It offers a hands-free sonar experience.
GPS Plotter: The Hook Reveal comes with a basic GPS plotter to help anglers navigate waters.
Mapping Compatibility: The device is also compatible with a variety of existing map options such as C-MAP, C-MAP Genesis, Navionics®, and others.
Given its comprehensive features at an affordable price point, Hook Reveal TripleShot is suitable for recreational or hobbyist anglers who want advanced capabilities without breaking the bank.
Lowrance Hook Reveal SplitShot
Lowrance's Hook Reveal SplitShot is another popular fish finder model in the Hook Reveal series, offering a combination of performance and affordability. Here's a detailed overview of its features:
Display: Like its sibling, the Hook Reveal TripleShot, the SplitShot is available in multiple screen sizes to cater to different angling needs. Typically, you find it in 5-inch and 7-inch screen sizes. The displays are SolarMAX screens, designed to provide clear and high-resolution views, even in direct sunlight.
SplitShot Transducer: The SplitShot offers traditional high CHIRP sonar combined with DownScan Imaging. It doesn't have the side scan imaging that the TripleShot offers.
FishReveal: This feature combines the detailed images from DownScan Imaging with traditional CHIRP sonar fish arch views. This makes it easier for anglers to identify target species.
Autotuning Sonar: This innovative feature automatically adjusts sonar settings based on changing fishing conditions, offering a more hands-free sonar experience.
GPS Plotter: The Hook Reveal SplitShot offers a basic GPS plotter to help you navigate waters easily.
Mapping Compatibility: Just like the TripleShot, the SplitShot is also compatible with a variety of map options such as C-MAP, C-MAP Genesis, Navionics, and more.
Lowrance Hook Reveal SplitShot offers a great balance of advanced features and affordability, making it a suitable choice for both beginner and intermediate anglers. Its versatility ensures it can fit perfectly across various vessel types, from kayaks to larger boats.
Lowrance Hook2 4x
Lowrance's HOOK2 4x is an entry-level fish finder focusing on simplicity and ease of use. While it doesn't have the advanced features of more expensive models, it offers reliable performance for basic sonar reading and basic GPS functionalities. It's a good choice for anglers who want a no-fuss, effective fish finder without a steep learning curve or a hefty price tag.
Here are its key features:
Display: Features a 4-inch SolarMAX display. This screen size is on the smaller side but is designed to be clear and readable even in sunlight.
Sonar: The HOOK2 4x primarily uses Broadband Sounder which operates on a single 200 kHz frequency. The unit provides a clear view of fish arches and bottom contours.
Automatic sonar settings: The device adjusts sonar settings automatically based on the fishing conditions, reducing the need for manual adjustments.
Basic GPS: It allows you to drop waypoints, follow trails, and navigate back to specific locations. Note that this won't have detailed maps but is useful for basic navigation and marking fishing spots.
Ease of Use: One of the main selling points of the HOOK2 series is its plug-and-play nature. It's designed to be easy to set up and use, even for those new to fish finders.
Lowrance FishHunter 3D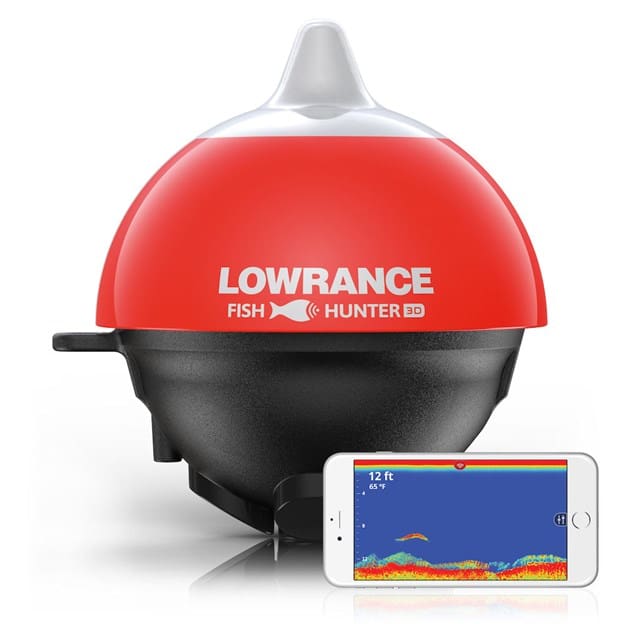 The Lowrance FishHunter 3D is a different kind of device compared to the traditional fixed or mounted fish finders. It's a castable fish finder, designed to be used with smartphones or tablets. Here's a breakdown of its features and its suitability for different scenarios:
Portability: Being a castable fish finder, the FishHunter 3D is small, portable, and doesn't require any boat-mounted installation. This makes it perfect for shore anglers, kayak fishermen, or those who frequently switch between boats.
Multiple Sonar Views: It offers traditional 2D sonar, Ice Fishing Flasher views, and a Raw View, giving versatility in how you view underwater data.
Wi-Fi Connectivity: Instead of Bluetooth, the FishHunter 3D uses Wi-Fi to connect to your smartphone or tablet. This ensures a stronger connection and allows for data transmission even at greater distances.
Depth Range: The FishHunter 3D can scan depths up to 160 feet (49 meters), making it suitable for a variety of freshwater fishing scenarios.
GPS Plotting: The device can create custom maps of your fishing spots using the FishHunter app, allowing you to mark productive areas and navigate back to them.
Integrated LED Light: This feature is useful for ice fishing or nighttime fishing scenarios, aiding in tracking the device in low light conditions.
The Lowrance FishHunter 3D offers a unique blend of portability and advanced sonar capabilities. For anglers who value mobility and versatility, or those who don't own a boat but still want detailed sonar data, the FishHunter 3D is an excellent choice.
How to Choose Lowrance Fish Finder
Screen Size
Options Offered by Lowrance:
Small (4 to 5 inches): Models like the Hook2 4x or Hook Reveal 5 offer this size. They are more compact and suitable for smaller boats or space-constrained environments.
Medium (7 to 9 inches): This includes models such as the Hook Reveal 7, Elite FS 7, or HDS Live 7. They offer a balance between viewability and space conservation.
Large (10 inches and above): Devices like the HDS Live 12 or 16 fall into this category. They provide a wide and clear view, particularly useful for split-screen functionalities or detailed chart plotting.
Choosing the Right Screen Size:
Consider your boat's size and available space. For smaller boats or kayaks, smaller screen sizes are more appropriate.
Think about how you'll use the device. If you plan to use split-screen functionalities (e.g., sonar and maps side by side), a larger screen might be more beneficial.
Budget also plays a role. Larger screens tend to be more expensive, so weigh the benefits against the cost.
GPS and Mapping
Options Offered by Lowrance:
Basic GPS Plotter: Models like the Hook2 4x offer simple GPS plotting functionalities without detailed maps, suitable for marking waypoints.
Advanced GPS with Base Maps: Many Lowrance devices come with built-in base maps, which provide a general outline of water bodies and some basic topographical details.
High-Resolution Mapping: Devices like the HDS Live or Elite FS series offer compatibility with high-resolution mapping solutions like C-MAP or Navionics. These maps provide detailed contour lines, points of interest, and more intricate navigation features.
Genesis Live Real-time Mapping: Most Lowrance models offer Genesis Live, which allows users to create real-time custom maps with half-foot contour details.
Choosing the Right GPS and Mapping:
Determine your navigation needs. If you're fishing familiar waters and mainly need to mark waypoints, basic GPS might suffice. However, if you're exploring unfamiliar areas or need detailed contours for structure fishing, advanced mapping is beneficial.
Consider future needs. Even if you're starting with basic needs, think about whether you might venture into unknown waters in the future. In such cases, opting for a device with advanced mapping capabilities or compatibility with high-resolution map cards might be a good idea.
Budget: High-resolution mapping solutions or devices with advanced GPS capabilities tend to be pricier. Balance your needs with how much you're willing to spend.
Transducer
The transducer is a crucial component of a fish finder. It emits sound waves into the water and receives the echoes to help depict underwater structures, bottom composition, and fish presence.
Options Offered by Lowrance:
Broadband Sounder: This is the traditional sonar which provides a view directly below the boat. It's suitable for showing fish arches and bottom structures. Most Lowrance devices will come with, or be compatible with, this type of transducer.
TripleShot and SplitShot Transducers: These are combinations of the above technologies. For instance, TripleShot offers CHIRP sonar, SideScan, and DownScan Imaging all in one, while SplitShot offers CHIRP and DownScan Imaging.
Active Imaging 3-in-1 Transducer: It combines the traditional CHIRP sonar with the advanced SideScan and DownScan Imaging capabilities, offering a comprehensive view of the underwater environment around and beneath your boat.
Active Imaging HD: This is the latest transducer offered by Lowrance, unveiled at the end of 2022. It provides high-definition SideScan and DownScan at 1075 kHz. It is compatible with Elite FS, HDS Live, and HDS Pro units.
Choosing the Right Transducer:
Determine your fishing environment: If you're fishing in shallow waters, a high-frequency transducer (like Active Imaging 3-in-1) can provide detailed images. For deeper waters, CHIRP or broadband sounder might be more suitable.
Type of fishing: If you're after specific species or need to differentiate between fish and structure clearly, technologies like CHIRP and DownScan can be advantageous.
Installation: Consider where and how you want to install the transducer – transom mount, thru-hull, trolling motor, etc. Not all transducers are suitable for every mounting type.
SideScan (Side Imaging)
SideScan, also known as Side Imaging, sonar provides detailed images of the underwater environment to the sides of your boat, which can be crucial for locating fish and understanding the structure of the waterbed.
Options Offered by Lowrance:
Economical SideScan: Hook Reveal TripleShot fish finder series provides budget-friendly SideScan along with High CHIRP sonar and DownScan Imaging. It provides decent SideScan imaging for locating fish and structures to the sides of your boat​.
High Quality SideScan: Lowrance's Active Imaging 3-in-1 transducer supports 455/800kHz frequencies for SideScan and DownScan Imaging. It offers superior clarity and is a versatile choice for anglers looking for detailed underwater imaging. Elite FS and HDS Live units are compatible with Active Imaging 3-in-1 transducer.
High Definition SideScan: Lowrance's Active Imaging HD transducer offers high-definition (up to 1.2MHz) SideScan and DownScan Imaging and comes at the premium price. It's designed for anglers who are looking for superior clarity and detail in their sonar imaging.
Choosing the Right SideScan Option:
Budget: Determine your budget as Lowrance offers SideScan capabilities in both economical and high-end fish finders.
Clarity and Resolution: If you prioritize clearer images and higher resolution, consider the high-end fish finders with Active Imaging HD or Active Imaging 3-in-1 transducers.
Coverage Area: Evaluate the coverage area you need. If you're looking to cover large areas, ensure the transducer and fish finder model you choose provides adequate SideScan frequency range. A low frequency (e.g. 455 kHz) offers greater coverage underwater but will return an image with less definition, which is beneficial when scouting new areas for the first time. On the other hand, a high frequency (e.g. 855 kHz and above) will provide narrower coverage but with greater detail, making it suitable for identifying specific structures or fish
Boat Size and Mounting: SideScan requires a proper transducer placement for optimal performance. Ensure your boat can accommodate the transducer in a location that won't experience interference or turbulence.
Active Target Compatibility
ActiveTarget Live Sonar is one of Lowrance's innovative technologies that provides real-time, high-resolution views of fish swimming around or below your boat. It offers unparalleled clarity and allows anglers to see fish in relation to structures and respond in real-time.
ActiveTarget Live Sonar is compatible with Lowrance's HDS Pro, HDS Live, and Elite FS series. These units can directly integrate with the ActiveTarget transducer and module to display live sonar views.
Should you choose ActiveTarget Compatible Unit?
Tournament and Professional Anglers: If you're an angler who's heavily into competitive fishing or you're keen on utilizing the latest technologies for a cutting-edge advantage, then investing in a unit compatible with ActiveTarget is a wise choice. The real-time feedback can be invaluable for certain fishing techniques and situations.
Budget Considerations: Units compatible with ActiveTarget, along with the ActiveTarget kit itself, come at a premium. Ensure that the benefits align with your fishing style and needs before making the investment.
Existing Equipment: If you already have an HDS LIVE, HDS Carbon, or Elite FS series unit, upgrading to incorporate ActiveTarget is a straightforward process. If you're considering buying a new unit altogether, ensure you choose a compatible model if ActiveTarget is on your radar.
Portable
Options Offered by Lowrance:
Portable Kits: Lowrance offers portable kits for some of their fish finders. These kits generally come with a portable bag, a suction cup transducer mount, and a battery with a charger. This setup allows you to easily move the fish finder between rental boats, kayaks, or even for ice fishing.
Castable Units: The castable fish finders, like Fish Hunter 3D, are more portable due to their size and weight. They are ideal for situations where space is limited or when setting up the device quickly is crucial.
Choosing the Right Portable Option:
Type of Fishing: If you frequently switch boats, love to shore fish, or want insights in varied environments (e.g., boat, shore, ice), then a portable kit, a smaller fish finder, or the castable Fish Hunter 3D might be right for you.
Setup Time: Portable units, especially the Fish Hunter 3D, are designed for quick setup and takedown. If minimizing setup time is a priority, these are the go-to options.
Power Source: Ensure your chosen portable unit has an adequate power source. While many come with rechargeable batteries, it's essential to check the battery life, especially if you're planning extended fishing trips.
Kayak Fishing
Kayak fishing presents a unique set of challenges and requirements compared to traditional boat fishing. The compact nature of kayaks, combined with the need for portability, lightweight gear, and stealth, impacts the choice of electronics and accessories for kayak anglers. Let's look at how Lowrance caters to kayak fishing and how you should choose the right specs.
Features Offered by Lowrance for Kayak Fishing:
Compact Units: Lowrance offers smaller units like the Hook2 4x, which are ideal for the limited space available on a kayak.
Portability: Many of their units are easily mountable and removable, which means you can install them when needed and store them away without much hassle.
Scupper Transducer Mounting: Some kayaks have designed scupper holes that allow for transducer mounting, which provides clear sonar readings without drilling or external mounts. Lowrance's transducers are compatible with many of these systems.
Durable and Waterproof: Lowrance units are built for marine environments, ensuring they can handle occasional splashes and the rough conditions that sometimes come with kayak fishing.
Battery Life: Given that kayaks don't have onboard power sources like larger boats, it's essential to consider the power consumption of your fish finder. Many of Lowrance's compact units are energy efficient, making them suitable for use with small portable batteries.
Choosing the Right Specs for Kayak Fishing:
Size and Weight: Given the space constraints on a kayak, opt for compact and lightweight units. 4-inch to 7-inch units are small enough not to be obtrusive.
Transducer Mounting: Check if your kayak has a scupper hole or a dedicated space for transducer mounting. If so, ensure the Lowrance model you choose is compatible.
Power Source: Consider how you'll power the device. Many kayak anglers use small 12V batteries in waterproof boxes. Ensure your chosen device can run efficiently on such setups.
GPS and Mapping: Even in a kayak, GPS can be invaluable, especially if you're fishing vast lakes or coastal areas. Opt for a unit with basic GPS if you frequently fish new waters or need to mark hotspots.
Durability: Ensure the device is waterproof and durable enough to handle the occasional knock or splash.
Price: Kayak fishing setups generally lean towards the budget-friendly side, so consider units that give you the best value for money without unnecessary advanced features.