Garmin offers a variety of portable fish finders that cater to different types of fishing and environments. Their range includes castable sonar units like the Striker Cast and portable kit options for their more traditional fish finders such as the Striker series. These portable kits typically include a carrying case, a rechargeable battery, and a portable transducer, making them easy to transport and set up on any small boat or kayak.
Garmin offers one the best portable units in the market featuring built-in GPS for navigation and mapping, as well as CHIRP sonar technology for clear sonar imaging. Garmin's offerings are diverse enough to suit anglers looking for basic sonar readings to those needing detailed underwater structures and fish arches.
Garmin Striker Cast
Garmin's Striker Cast is a castable fish finder designed to enhance the portability and ease of use for anglers. Here's an overview of its key portability features:
Castable Design: The Striker Cast is small and lightweight, intended to be cast out on the water with a fishing line. This makes it incredibly portable, easy to carry, and versatile for use in various fishing environments.
Wireless Connectivity: It operates by syncing wirelessly to a compatible smartphone or tablet via the Garmin Fish app, eliminating the need for a traditional, bulky fish finder screen and reducing the overall gear an angler needs to bring along.
GPS Capabilities: It includes GPS functionality, allowing you to create maps of the fishing spots, which adds to the device's versatility without compromising its portability.
Durability: Built to withstand the elements, it is suitable for both freshwater and saltwater environments, meaning it can be taken on any fishing trip.
Battery-Powered: The device is powered by an internal, rechargeable battery with a decent life span, ensuring several hours of fishing without the need for constant recharging.
Ease of Use: The accompanying app not only displays the sonar data but also is user-friendly and informative, giving details about water temperature, depth, and fish locations.
Travel-Friendly Accessories: It comes with a carrying bag or pouch for transportation, further enhancing its portability.
Garmin Striker 4 with Portable Kit
The Garmin Striker 4 with Portable Kit is a compact fish finder designed for anglers who need flexibility and ease of transport. Here's a brief overview of its portability features:
Compact Device: The Striker 4 itself is a small and lightweight unit, making it easy to handle and transport.
Portable Kit: The portable kit includes a carrying case that protects the device and makes it easy to carry around. This case typically has space for the device, its mount, and the portable transducer.
Portable Transducer: It comes with a suction cup mount transducer which can be easily attached and removed from your boat or kayak, giving you the flexibility to use it in different vessels or even for ice fishing.
Rechargeable Battery: The portable kit includes a rechargeable battery and charger, which means you can use the fish finder in remote locations without needing a permanent power source.
GPS Capabilities: While focused on portability, the Striker 4 also includes high-sensitivity GPS for marking and returning to waypoints, which is a great feature for a portable unit.
Easy Setup and Takedown: The device is designed for quick setup and takedown, which is ideal for anglers who move between spots or those who do not want to install permanent equipment on their boat.
Versatile Mounting Options: The Striker 4 can be mounted using a tilt/swivel mount, making it easy to adjust and view the display as needed.
Garmin Striker Plus 4
Garmin's Striker Plus 4 is an updated version of the Garmin Striker 4. The primary differences are typically in the advanced features and improved functionality. The Striker Plus 4 offers a larger display and enhanced mapping capabilities with Quickdraw contours. 
However, both models maintain a focus on portability with similar carrying cases, portable transducers, and rechargeable batteries within their kits.
Garmin Echomap Plus 43CV with Portable Kit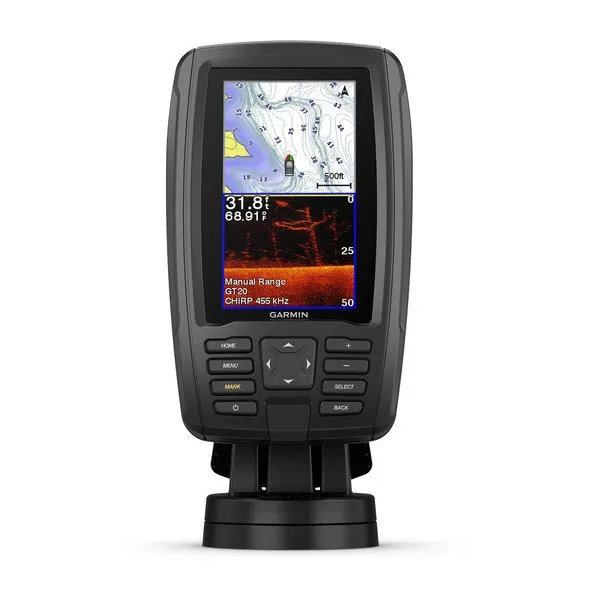 The Garmin Echomap Plus 43CV with Portable Kit is a versatile and user-friendly fish finder and chartplotter combo designed for anglers who require the convenience of portability without sacrificing functionality. Here's an overview of its portability features:
Carrying Case: The device comes with a rugged, durable carrying case that houses the Echomap Plus 43CV unit, the transducer, and the rechargeable battery. This case facilitates easy transportation and storage.
Portable Transducer: The kit includes a portable transducer, often with a suction cup or ice fishing mount, making it adaptable to various fishing scenarios, including small boats, kayaks, or ice fishing.
Rechargeable Battery and Charger: The inclusion of a rechargeable battery with a charger ensures that you can use the device in locations without access to a constant power supply.
Quick-Release Mounts: The unit typically features quick-release mounts that allow for fast and effortless removal and installation, making it ideal for anglers on the go.
Built-in GPS: Despite being portable, the Echomap Plus 43CV offers built-in GPS capabilities for navigation and marking waypoints, which is beneficial for finding your way back to productive spots.
Preloaded Maps: The device comes preloaded with detailed maps that are ready to use straight out of the box, adding to its ready-to-go nature.
Ease of Use: The Echomap Plus 43CV, with its portable kit, is designed for easy setup and takedown, which is crucial for anglers who don't want to spend a lot of time on installation.
Garmin Striker Vivid 43CV with Portable Kit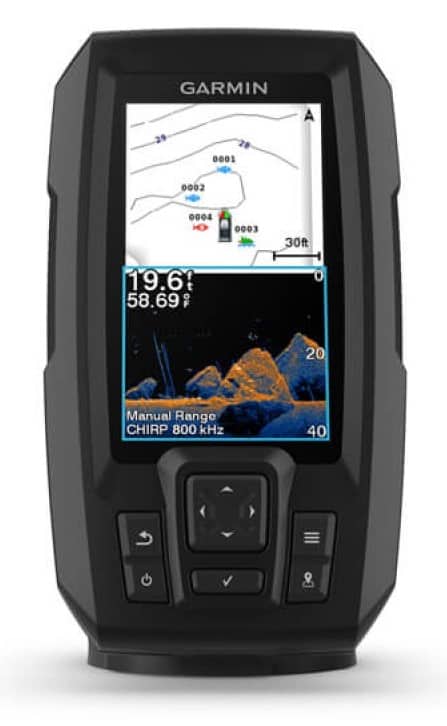 The Garmin Striker Vivid 43cv with Portable Kit is a versatile fish finder that offers both clear sonar imaging and high portability for anglers on the go. Here's a brief overview of its portability features:
Carrying Case: It usually comes with a rugged, portable carrying case that helps protect the fish finder during transport and makes it easy to carry from location to location.
GT20-TM Transducer: Included in the kit is the GT20-TM transducer which provides both traditional CHIRP sonar and CHIRP ClearVü scanning sonar, giving detailed images of what's beneath the water.
Integrated GPS: The Striker Vivid 43cv has built-in GPS for waypoint marking and navigating back to your favorite spots.
Color Display: The device features a 4.3-inch color display with vivid color palettes to help distinguish fish and structure, which is quite useful in different fishing environments and light conditions.
Battery and Charger: The portability kit includes a rechargeable battery and charger, so you don't need to rely on a permanent power source, making it great for fishing from kayaks or in remote locations.
Easy to Set Up: It's designed for quick assembly and disassembly. The transducer comes with a suction cup mount, and the kit may include a foam float for ice fishing or stationary kayak fishing scenarios.
Tilt/Swivel Mount: This allows for easy adjustment of the fish finder's angle for better viewing and quick removal for transport.
How to Choose Garmin Portable Fish Finder
Choosing a Garmin portable fish finder involves considering several factors to ensure it meets your specific needs. Here's a brief guide to help you select the best Garmin fish finder with portability features:
Type of Fishing: Determine the type of fishing you will be doing. Different models cater to different environments, such as ice fishing, kayak fishing, or open-water fishing.
Sonar Technology: Look for models with CHIRP sonar for better target separation and resolution. Some models offer ClearVü and SideVü for detailed images of what is below and beside your boat.
Screen Size and Readability: Ensure the display size is suitable for your boat or kayak, and that it remains readable in direct sunlight if you will be using it during the day.
GPS Functionality: If you want to mark fishing spots, create maps, or navigate waters, opt for a model with built-in GPS.
Portability: For anglers on the move, look for units with a portable kit. This often includes a carrying case, portable transducer, and rechargeable battery.
Power Source: Check the battery life and power options. Some units come with rechargeable batteries, while others might require a separate power source.
Durability: Ensure that the device is rugged enough to withstand the conditions in which you will be using it, including water exposure and potential impacts.
Ease of Use: User-friendly interfaces with intuitive controls are crucial for hassle-free operation while on the water.
Budget: Garmin offers a range of portable fish finders from entry-level to high-end. Decide how much you are willing to spend and find the best model within your budget that meets your requirements.
By assessing these aspects and comparing different Garmin models, you can choose a portable fish finder that offers the best combination of functionality, portability, and value for your fishing style and conditions.