Garmin offers a variety of Fish Finders for Kayaks, ranging from compact and straightforward units to advanced models with GPS mapping and high-definition sonar capabilities.
The Striker series, such as the popular Striker 4, is designed for ease of use with clear displays and robust sonar readings, catering to kayak anglers who favor simplicity and affordability. For those seeking more detailed underwater imaging and navigation features, the Echomap series, like the Echomap UHD2 73SV, provides high-definition scanning, detailed maps, and larger screens.
These kayak fish finders also offer customizable setups with various mounting options to suit the diverse needs of anglers.
Garmin Striker 4
The Garmin's Striker 4 is a popular choice among kayak anglers for several good reasons. It has a strong reputation for being an efficient and reliable fish finder that offers great value for its price. Here are its benefits for kayaks:
Compact Size: Its small footprint makes it suitable for the limited space available on a kayak.
Clear Display: Even though it's compact, it has a clear and readable display which is crucial when looking at it from the seated position in a kayak.
Integrated GPS: This feature allows you to navigate and mark waypoints, which is very handy for kayak anglers who want to return to productive spots.
Easy Installation: The Striker 4 is relatively easy to install on a kayak, with a transducer that is well-suited for smaller craft.
Portability: It's light and portable, making it easy to transfer between kayaks if needed.
Power Efficiency: It doesn't draw a lot of power, which means it can run on smaller batteries suitable for kayaks without adding much weight.
CHIRP Sonar: Offers better target separation and resolution of fish arches than traditional sonar, which can be particularly useful in the varied environments kayaks often explore.
Garmin Striker Cast
The Garmin's Striker Cast is a castable fish finder, meaning it's not mounted to the kayak but instead thrown into the water where it floats and transmits data back to a smartphone or a compatible device. From a kayak fishing perspective, here are some reasons why this Garmin Portable unit could be a good choice:
Portability: Its compact size and wireless design make it extremely portable, which is ideal for the limited space available on a kayak.
Ease of Use: There is no complex mounting required. You can cast it out wherever you are fishing, which makes it convenient for kayakers who want to avoid permanent installations.
Flexibility: It allows you to check different areas without paddling over to them, saving time and energy.
Smartphone Integration: It pairs with a smartphone app, meaning you don't need a separate display unit on your kayak, which again saves space.
GPS Feature: Striker Cast has built-in GPS which helps mark spots where you're catching fish, and for navigating back to them later.
Garmin Striker Vivid 4CV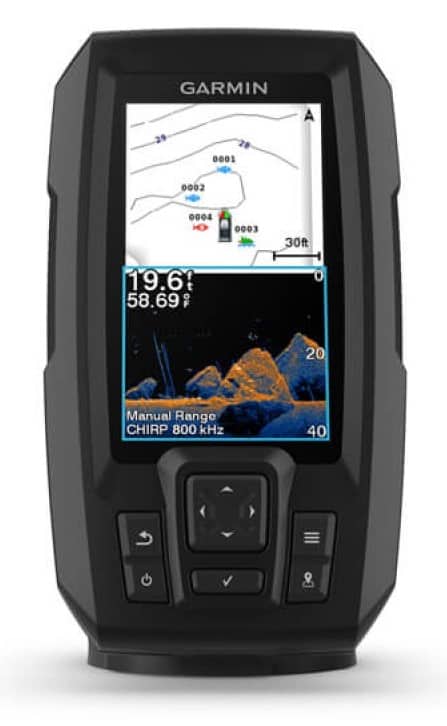 Garmin's Striker Vivid 4cv packs essential features into a compact and robust unit that is well-suited for the kayak. Here are its key features from a kayaking perspective:
Compact Size: Its 4-inch screen is compact enough to fit on the limited space of a kayak without being obtrusive.
CHIRP Sonar Technology: It includes CHIRP sonar which sends a continuous sweep of frequencies to provide a wider range of information and better target separation.
Garmin ClearVü: This gives you a nearly photographic image of what is below your kayak, which is great for identifying fish-holding structures.
GPS Capabilities: The built-in GPS allows you to mark waypoints, create routes, and view your boat's speed, which is ideal for navigation and revisiting productive spots.
Ease of Installation: The device is relatively easy to install on a kayak, and there are a variety of mounts available to suit different kayak models.
Portability: Its size and the available portable kit options make it easy to transfer between kayaks if needed.
Garmin Echomap Plus 43CV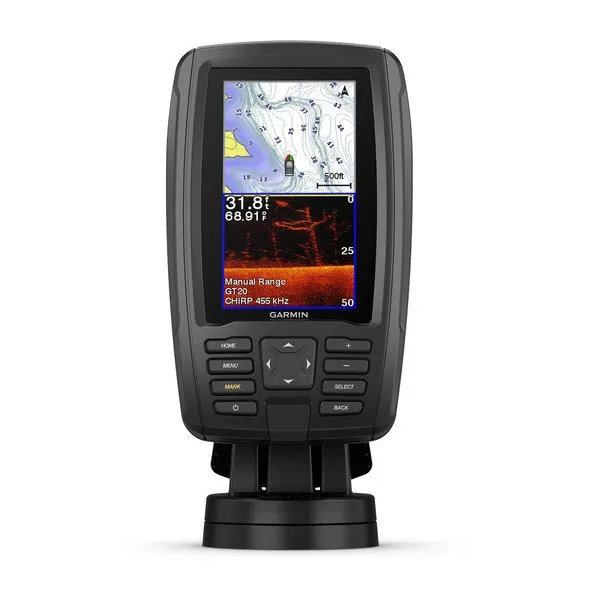 Echomap Plus 43cv is another compact fish finder by Garmin that is well-suited for kayaks. Here are its features and benefits for kayak:
Size: With a 4.3-inch screen, it is compact enough to fit on a kayak without taking up too much space, which is important given the limited room available on a kayak.
Display: It has a color display, which provides clear visibility in various lighting conditions, an important feature when kayaking in bright daylight.
Sonar Capabilities: The Echomap Plus 43cv includes CHIRP sonar and ClearVü scanning sonar, offering good underwater detail and fish targeting, suitable for the smaller waterways and shallower waters where kayaks often go.
GPS and Mapping: Echomap Plus 43cv comes with LakeVü g3 maps, which are highly detailed freshwater maps that offer numerous benefits for kayak anglers. These maps include contours for thousands of lakes and bodies of water, providing clear underwater topographic imagery which is essential for identifying fish-holding structures like drop-offs, channels, and submerged weed beds.
Transducer: It comes with the GT-20 transducer that is suitable for kayak installation, either through in-hull mounting or on the transom, depending on your kayak design.
Garmin Echomap UHD2 73SV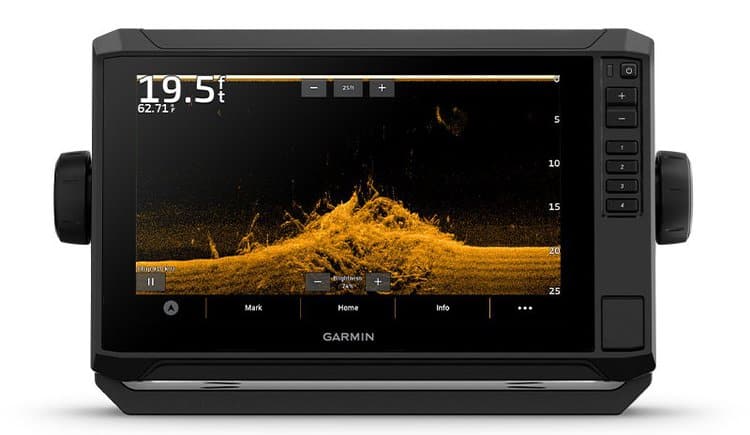 Garmin's Echomap UHD2 73SV is a good fish finder for kayak use due to several features that are well-suited for the limited space and unique requirements of kayak fishing:
Size: It has a 7-inch screen that's large enough to view details without taking up too much space on a kayak.
Mounting Options: It can be easily mounted on a kayak with compatible mounts, making it a practical choice for the limited working space.
ClearVü and SideVü Sonars: These features provide detailed images of what's beneath and to the sides of the kayak, which is particularly useful when fishing in the diverse environments you might encounter while kayak fishing​​.
Mapping: Preloaded LakeVü g3 inland maps with integrated Navionics data cover more than 17,000 lakes, which is quite beneficial for navigation and finding fishing spots.
GPS: It includes a built-in high-sensitivity GPS to help you navigate and mark waypoints, which is great for tracking your fishing spots.
Power Consumption: It has a typical current draw at 12V DC of 1.52A, which means it can run on a small battery without the need for a heavy power source, an important consideration in a kayak.
Garmin Transducer Mounts for Kayak
Garmin offers several options for mounting their transducers to a kayak. The method of mounting can depend on the type of transducer and the design of the kayak. Here are some common mounting options for Garmin transducers on kayaks:
In-Hull Transducer Mounts: This involves attaching the transducer inside the hull of the kayak. Garmin's In-Hull transducer mounting kit is compatible with Garmin dual-beam and GT20-TM transducers, suitable for use with various fishfinder and combo marine devices.
Transom Mounts: Transom mounting is a traditional mounting method where the transducer is attached to the stern (back) of the kayak. It's a popular option for larger transducers that come with many fish finders.
Scupper Hole Mounts: Some sit-on-top kayaks come with scupper holes that can accommodate a transducer. Garmin or third-party accessories can allow the transducer to fit snugly into one of these scupper holes, providing a clear view of the water beneath the kayak.
SideVu Transducer Mounts: For SideVu transducers, there are special mounting options to ensure that the transducer has a clear view horizontally. These might attach off the side of the kayak or be designed to mount underneath with the ability to pivot.
How to Install Garmin Fish Finder on Kayak
Installing a Garmin Fish Finder on a kayak involves several steps. Here is a brief overview:
Mount Display: Secure the display unit to the kayak using a gear track or drilling holes for a mounting bracket.
Install Transducer: Attach the transducer inside the hull with adhesive, in a scupper hole, on the transom, or to a side/arm mount.
Run Cables: Route the cables from the transducer to the display unit, securing them along the way.
Connect Power: Plug the transducer and power cables into the display unit and connect to a 12V kayak-compatible battery.
Test: Launch the kayak and test the fish finder to ensure it's functioning correctly and adjust as necessary.