The best saltwater fish finder should provide a high-resolution, sunlight-readable screen, dual or multi-frequency capabilities for various water depths, GPS and chart plotting integration for accurate navigation, CHIRP, and Imaging sonar for clearer fish arches and structure details.
Durability in a saltwater environment, a user-friendly interface, and compatibility with detailed marine charts are also essential features for offshore and inshore fishing.
Here is a quick look at the best saltwater fish finders:
Garmin GPSMAP 943XSV
Humminbird Helix 7 Mega SI
Lowrance Hook Reveal 5 Splitshot
Deeper Pro+
Best Saltwater Fish Finders 2023 – Review
1. Garmin GPSMAP 943XSV
Key Features:
High-resolution Touchscreen Display: The 943XSV features a large, 9-inch touchscreen with sharp visuals, making it easy to read even in direct sunlight.
CHIRP Sonar, SideVü, and ClearVü: These features offer advanced sonar scanning capabilities. CHIRP provides clearer fish arches with better target separation. SideVü and ClearVü provide near-photographic images of what's to the sides and beneath the boat.
Built-in Mapping: Comes with preloaded Garmin Navionics+ coastal charts and inland maps.
Networking Capabilities: This unit can share data with other compatible Garmin devices, including radar, autopilots, cameras, and more.
Garmin's GPSMAP 943XSV is best suited for offshore and deep-sea fishing given its advanced sonar capabilities, built-in coastal charts, and networking features. The advanced sonar can help locate schools of fish or individual game fish in deep waters, while the built-in coastal charts are valuable for navigating offshore environments. The networking capabilities mean that it can be integrated into a larger boat system, typical of vessels used for offshore adventures.
2. Humminbird Helix 7 Mega SI
Key Features:
7-inch Display: The Helix 7 offers a full-color, 7-inch widescreen display.
MEGA Side Imaging and Down Imaging: These features provide clear and detailed views of the underwater environment to the sides and directly below the boat.
CHIRP Dual Spectrum Sonar: Offers two ways to search – wide mode for maximum coverage and narrow mode for maximum detail.
Built-in GPS and Mapping: Comes with a built-in GPS and Humminbird's Basemap for navigation.
The Humminbird Helix 7 Mega SI, with its MEGA Side Imaging and Down Imaging, is excellent for inshore saltwater fishing, such as flats, backwaters, and bay fishing. The detailed side and down imaging can help anglers locate fish-holding structures like reefs, drop-offs, and grass beds in shallower waters. While it's still capable of being used offshore, its features are especially beneficial in inshore environments where detailed imaging can make a significant difference.
3. Lowrance Hook Reveal 5x Splitshot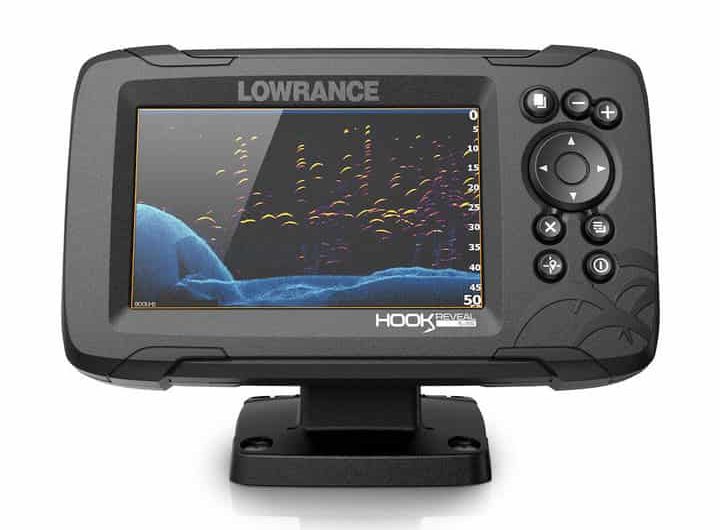 Key Features:
5-inch Display: The Hook Reveal 5x features a 5-inch color display that provides clear visuals.
FishReveal: This technology combines the detail of Lowrance CHIRP sonar and the high-resolution images of DownScan Imaging, offering a clearer view of fish and structures.
SplitShot Transducer: Provides both traditional CHIRP sonar and DownScan Imaging.
GPS Plotter: Comes with a basic GPS plotter for waypoint navigation.
SolarMAX Display: Ensures better viewing in bright sunlight conditions.
The Lowrance Hook Reveal 5x Splitshot, with its CHIRP sonar and DownScan Imaging, is best suited for inshore saltwater fishing and nearshore environments such as bays, estuaries, and nearshore reefs. The combination of CHIRP and DownScan provides a detailed view of the underwater environment, making it easier to spot fish and structures in relatively shallow waters. The GPS plotter can help anglers mark productive fishing spots or create their own custom maps.
4. Deeper Pro+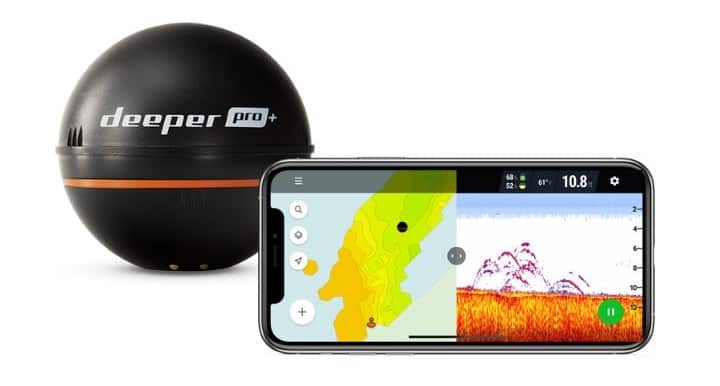 Key Features:
Portable Sonar: Unlike traditional fish finders, the Deeper Pro+ is a castable, portable sonar device, meaning it can be attached to a fishing line and cast out to scan areas away from the boat or shore.
Dual Beam Sonar: Provides both wide and narrow beam scanning. The wide beam gives a broader search area, while the narrow beam provides detailed sonar returns.
Built-in GPS: Allows for the creation of bathymetric maps from the shore.
Wi-Fi Connectivity: Connects to smartphones or tablets using Wi-Fi, turning them into a sonar display.
Depth Range: Scans depths from 2.5 ft to 260 ft.
The Deeper Pro+ is incredibly versatile due to its portability. It's especially useful for shore-based saltwater anglers, such as surf fishers or those fishing from piers, jetties, and bridges. Because you can cast it out, it can scan areas that are inaccessible to boat-mounted transducers. It's also handy for kayak or small boat anglers who may not want to install a traditional fish finder. The ability to create bathymetric maps is a unique feature that can help anglers understand the underwater topography of their fishing spot.
How to choose the right fish finder for saltwater fishing
Transducer Frequency Range
The transducer is the component of the fish finder that sends out and receives sonar waves. The frequency of these waves determines the detail and depth of the sonar readings.
High Frequencies (e.g., 192kHz to 200kHz or 455kHz to 800kHz): These are best for shallower waters, typically less than 500 feet deep. They provide more detail and higher resolution images, allowing you to see individual fish and structures with clarity. This range is best for inshore or nearshore fishing like bays, estuaries, and close reefs.
Low Frequencies (e.g., 50kHz): Best for deep-sea fishing in deeper waters (over 500 feet). They offer broader sonar beams and can penetrate deeper water layers, but with less detail compared to high frequencies. This range is best for deep-sea or offshore fishing.
Side Imaging
Side Imaging provides a nearly photographic underwater view to the sides of your boat. This feature is excellent for identifying structures, bottom contours, and fish habitats.
Side Imaging can be especially useful in saltwater environments with complex bottom structures, like reefs or wrecks. It's a great feature for inshore and nearshore anglers.
GPS Integration
GPS integration allows you to pinpoint your location, create waypoints, track routes, and sometimes even map the underwater topography. GPS fish finder is almost indispensable for saltwater fishing, especially if you're venturing offshore. The open ocean has fewer recognizable landmarks, so GPS helps in navigation and ensures you can find your way back to shore.
Mapping and Chartplotting
Mapping and chartplotting allow you to view detailed maps of underwater topography and navigational charts, respectively. Some fish finders come with preloaded maps, while others let you create custom maps based on your sonar readings.
If you're frequently exploring new fishing areas, especially in offshore or deep-sea environments, you'll benefit from advanced mapping and chartplotting features.
If you're primarily fishing in familiar inshore waters and don't need detailed navigational aids, a basic mapping system or even a fish finder without this feature might suffice.
Detailed mapping and chartplotting are invaluable in saltwater environments, especially for navigating safely around reefs, wrecks, and other underwater structures.
Screen Size and Resolution
A larger screen can show more information, and higher resolution provides clearer images.
If you're on a large boat and want to see details clearly, especially if using split-screen views (like sonar and mapping simultaneously), a bigger screen with high resolution is ideal.
For small boats or if you're primarily using the fish finder for basic depth and fish location, a smaller screen might suffice.
In the open sea where weather conditions can change rapidly, a larger screen with high resolution can provide clearer visuals, making it easier to read under various conditions, including bright sunlight or rain.
Portability
Portable fish finders are designed for anglers who don't want to permanently mount a unit on their boat. They're also great for kayak fishing, rental boats, or ice fishing.
If you own a boat and frequently go saltwater fishing, a fixed unit might be best due to its robust features. However, if you're an occasional angler or use different boats, a portable unit can be very convenient.